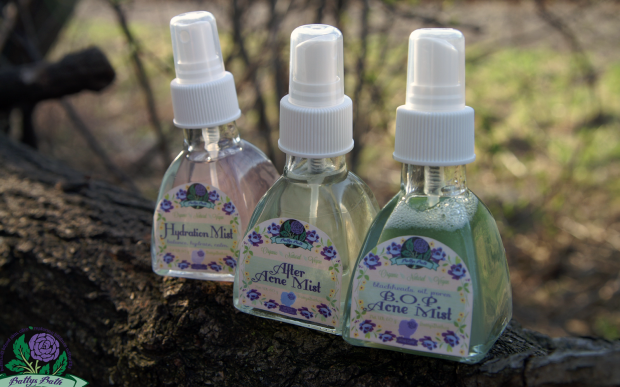 Mists, like serums, are a quick way to make sure your skin is getting the natural, targeted ingredients it needs to combat a particular problem. They are like a super healthy facial without all the fuss!
The reason mists work so well is that they are made up of natural ingredients that your skin recognizes and knows what to do with! Your skin readily absorbs mists deep into its layers – the layers where the ingredients can do their most beneficial work!
Check all super targeted mists here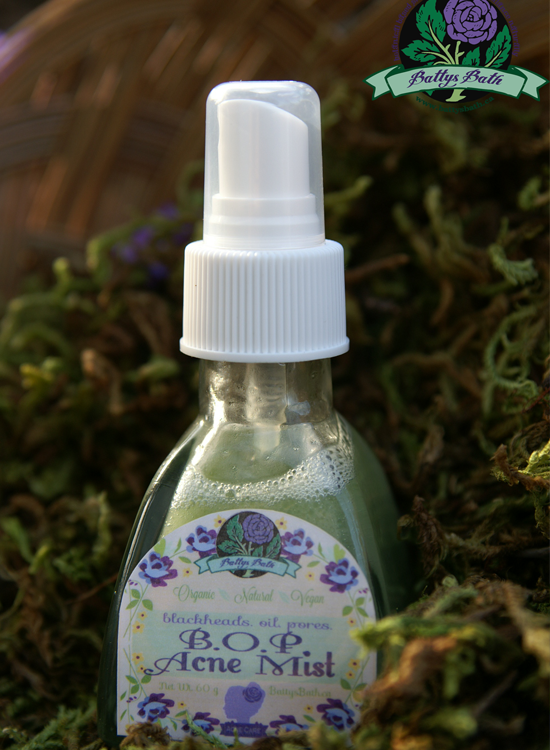 When blackheads, excess oil, and enlarged congested pores have over stayed their welcome, add my Acne B.O.P. mist to your routine to give them the boot!  This mist is designed as a concentrated treatment for very specific problem (problems that just happen to be the biggest culprits of acne breakouts and lowered self-esteem). In fact, this serum tackles "the big 3" problems so well, it's named after them!
B – Blackheads .. This serum helps detox & purify those bad boys!
O – Oil .. This serum balance excessive oil production. When this is balanced and skin is exfoliated regularly, acne is stopped before it can start.
P – Pores … as in enlarged, congested pores. The serum helps wash out and clear up congestion so pores can heal and relax.
The ingredients in this serum help balance oil production, clear out congested enlarged pores, and help purify blackheads (bye bye blackheads!). If you're serious about clearing up acne, start with the Acne Prone Skin Care Kit, and then add this mist to your routine!
(pst.. if you know your acne is also being caused by unbalanced hormones, hormonal changes, or bacteria, also add the Skin Support Serum).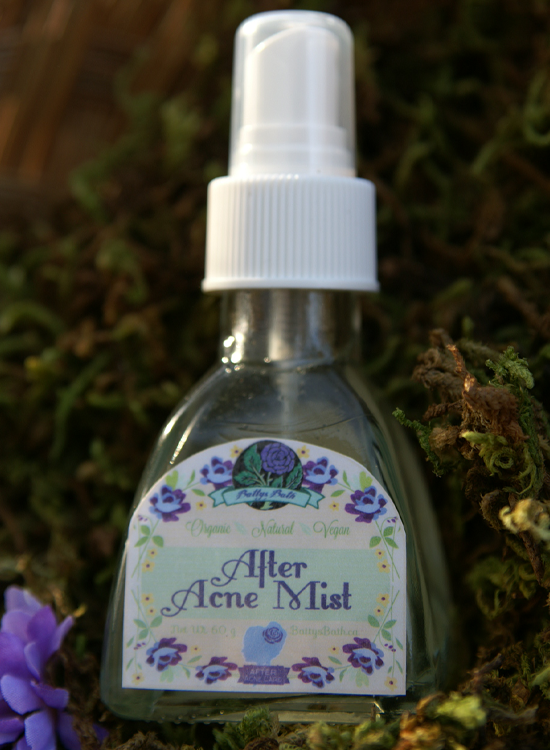 After you've got your acne under control, it's time to repair any damage or symptoms that might be left behind from a long-term fight with acne! You still have acne prone skin to consider while tackling symptoms such as residual redness, enlarged pores, a blotchy complexion and acne scars. That's where the Acne Repair line comes in. It starts with the Acne Repair Kit, which is boosted by After Acne Mist.
The After Acne Mist is a concentrated dose of natural healing ingredients that have one goal in mind: make any signs or symptoms of acne a thing of the past! Specifically, the serum targets hyperpigmentation (uneven skin tone, redness, blotchiness), rough/uneven texture, mild/occasional breakouts, scaring from previous breakouts, enlarged pores, and inflammation.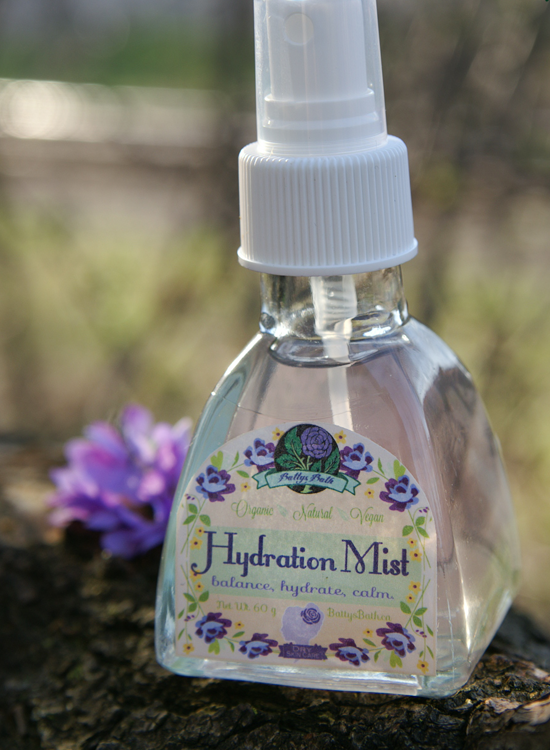 Sometimes a moisturizer isn't enough to hydrate unbalanced skin! Why? Because your skin needs a balance of water and oils to stay balanced and keep it's acid mantle intact  (moisturizers only provide the oil portion of the equation). The skin's acid mantle is your naturally protective layer of sebum.  Without it, your skin (and system) is open to damage, infection, and oil imbalance.
Serums and Mists provide the water part of the balanced skin equation. Dehydrated skin is different from simply dry skin. Dry skin can be cured with moisturizers. Dehydrated skin on the other hand, has a lack of water (not oils), and a moisturizer isn't enough.  That's where my hydration serum and mist comes in.
It is possible to have dry AND dehydrated skin. In fact, it's common. But just as common is dehydrated OILY skin. My hydration serum and mist are the answer to dehydrated skin! Start with one, and add the other if needed. See how to use a mist, serum and moisturizer together under the "how to use" section.
Dehydrated skin is a bad thing! It leads to all kinds of problems including break outs (see below), congested pores, poor circulation, and poor texture. It also means your natural acid mantle can't do its job: protecting you!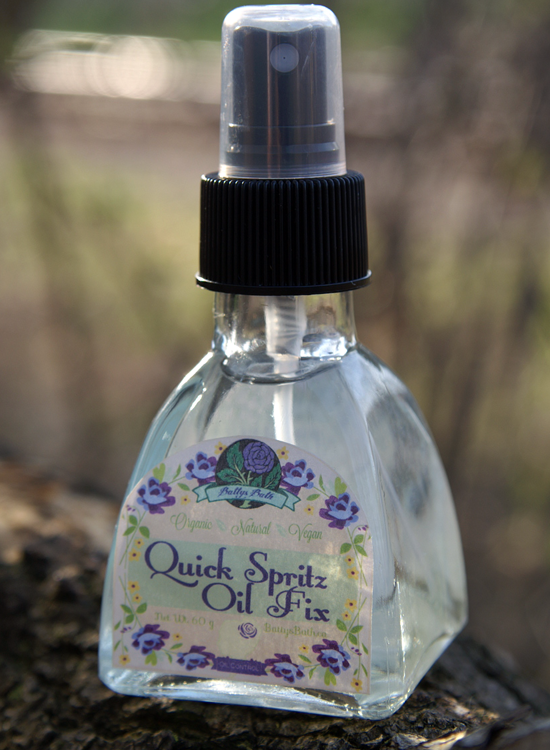 The 100% Natural Quick Spritz Oil Fix is a super fast way to remedy extra facial oil or the feeling of greasy makeup by mid-afternoon! Instead of fiddling with blotting papers, tissues, or washing your face and starting all over again mid-day, rely on nature's natural toner and oil zapper, Witch Hazel.  Just one quick spritz is all you need to absorb extra oil without ruining your makeup or needing anything other than this bottle. It's couldn't be easier!

How to use mists…
A mist can easily be worked into any skin care routine. Simply use it after washing your face and before applying any serums or moisturizers. Easy as that! Mists can even be layered if you're looking to target multiple problems at once.

All Batty's Bath Mists (along with our full line of targeted skin care products, ingredients lists, and extra info) can be found in our online shop!