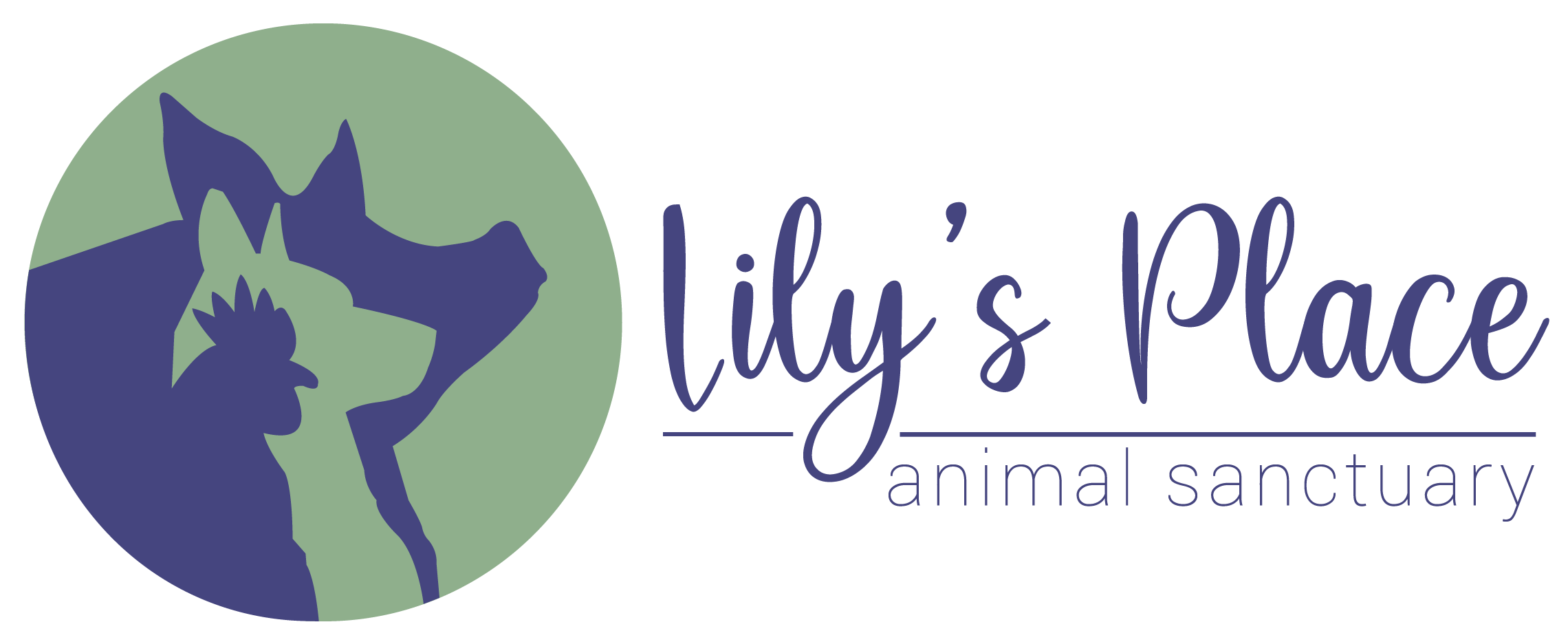 Lily's Place is a small animal sanctuary that provides forever homes to a pack of furry, feathered and hooved friends.
It all started when Tim and his 3 rescue dogs met Jamie and her 3 rescue dogs... it didn't take long for Tim and Jamie to form the canine version of the Brady Bunch!
Since that time, the 3 oldest members of the original canine Brady Bunch have passed peacefully over the rainbow bridge, a 3 legged member has joined the pack, numerous foster dogs have bunked at Lily's Place before being placed in forever homes, a flock of ex-battery hens have come to safely roost at Lily's Place, and a small herd of sheep how found their forever homes at Lily's Place as well.
The adventure continues at Lily's Place as we help all the animals settle in, live in peace, and we get ready to open our doors once again.
Scroll down to follow our adventures, learn about the animals, and connect with ways to support our mission.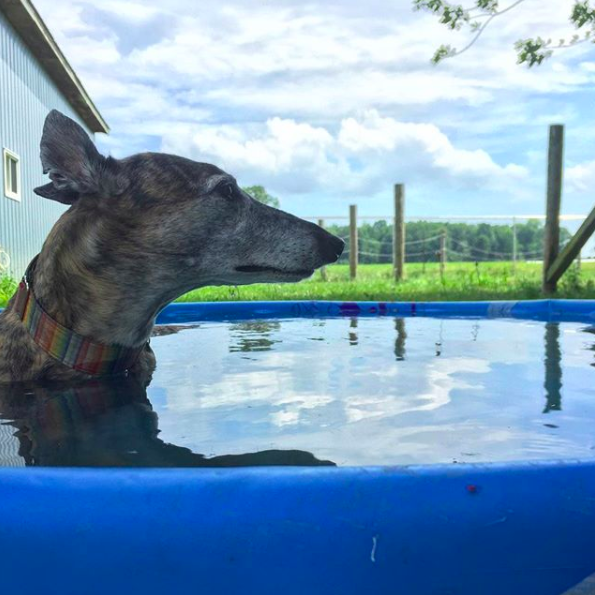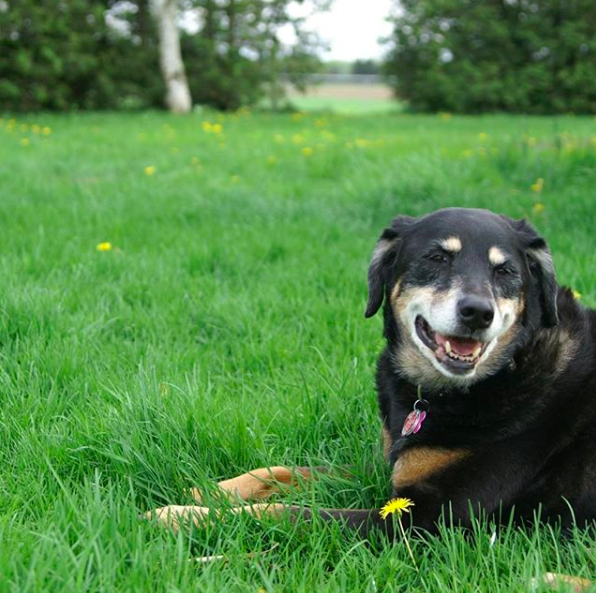 Lily's Place is named after two special ladies.
Tim's late mom, Lillian, affectionately nicknamed Lily by Tim's late father, always opened up her home to those in need. This included animals and numerous foster children. Lillian was an avid animal lover, and she always had a dog cuddling on her lap, whether it was one of her dogs or a grandpuppy. On one occasion, after hearing about an unwanted dog being left alone in a muffler shop overnight, she marched right over to give Buster a proper home. Her compassionate spirit and willingness to provide a safe place to displaced souls is work we'd like to continue through Lily's Place.
Chili, one of the original canines in the Brady Bunch, came to Tim with the name Lily.  After being adopted by Tim, her name changed to reflect her New Orlene's origins as she was a puppy born to homeless dogs living on the streets after Hurricane Katrina. Chili arrived in Canada as an (estimated to be) 2 years old who still didn't have a family of her own. Tim met her within hours of her arriving at the Hamilton/Burlington SPCA. She was exhausted from her travels, curled up in a tiny ball in her dog run, but something about her sweet presence grabbed Tim's heart. The next morning, Tim came back with Flea (another original member of the canine brandy bunch) to meet Chili, and the rest is history. Over her lifetime Chili helped timid little Flea come out of her shell, reassured numerous foster dogs, and remained a calm, stable leader for the canine brady bunch until her passing in February of 2019 at the age of 13 after a long battle with diabetes.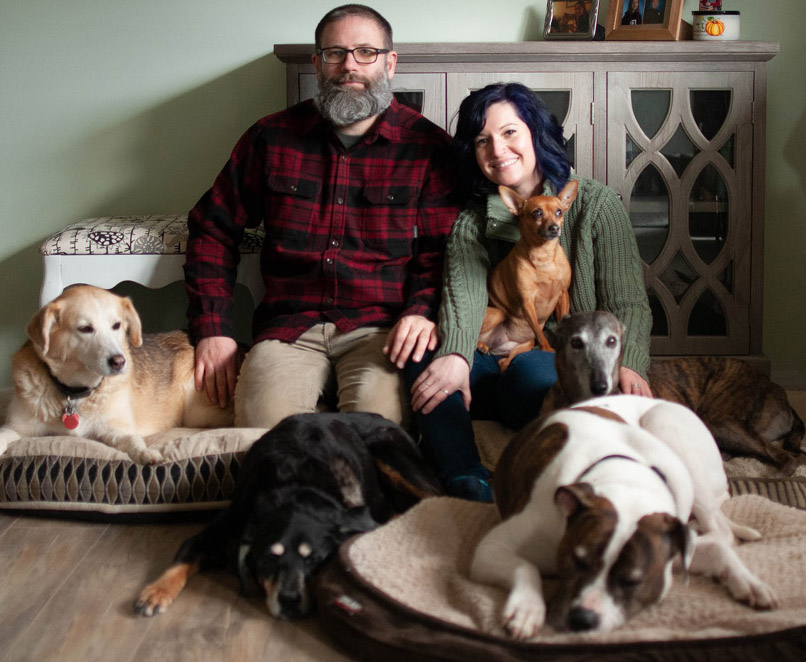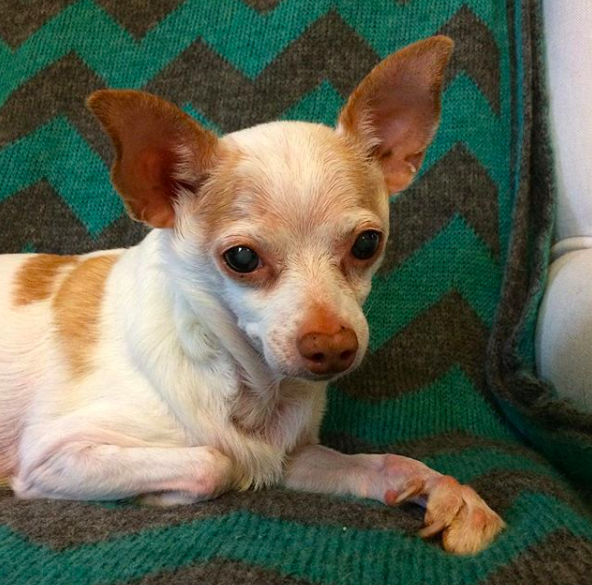 The Canine Brady Bunch
All but one of the original canine Brady Bunch members are pictured in this group shot captured by Echo of Echo's Visuals in early 2019. Flea is the missing member in the group shot as she had passed away after a lifelong battle with diabetes in December 2016 just shy of her 13th birthday.
Sassy (far left) - nicknamed "honey bear" because of her sweet disposition was adopted from Renfrew County OSPCA at the age of 1.5 years. This adoptive momma bear to many foster friends (including Little Man) passed over the rainbow bridge in May 2019 at the age of 13 after a heartbreaking battle with cancer.
Chili (laying in front of Tim) - See Chili's story in the "our name" section.
Cricket (on Jamie's lap) - our spunky girl who only has 3 paws adopted from Toronto Humane Society. Why she only has 3 paws is still a mystery to this day.
Lucy (the greyhound) - our gentle, playful, social butterfly was adopted from GRA Canada at the age of 6 after retiring from racing and "bouncing" from several homes.
Little Man (the not so little brindle + white guy, front right) - adopted from Ador-A-Bull Dog Rescue after being fostered by Jamie for over a year with no adoption prospects is the ultimate cuddle bug! No day is complete for him without snuggling as many people and dogs as possible. He's often found spooning on the deck with our newest pack member, Polkaroo.
Polkaroo: The newest canine resident at Lily's Place
Polkaroo (aka Pokey) came into our home as a foster dog after bouncing from numerous homes in a matter of days after arriving in Canada. She's estimated to be about 3 years old, and by the time she found her way to us, she needed a place where she could feel safe and decompress with a stable pack and lots of consistency.
The part of her story that we do know is that she was found severely injured on the streets of Polk County in Florida.  Those injuries resulted in countless scars, missing teeth, and the loss of her back right leg. Numerous generous, kind-hearted souls provided her aid between the time she was found injured to the time she arrived in our care.
She's a super sweet soul who is eager to please, quick to bond, and wants to be where her friends are. We've also noticed a "monkey see, monkey do" trend with her following Little Man's example of how to be a gentle giant (even though she's half his size).
The Chickens
Affectionately known as "the ladies", these 5 ex-battery hens came to us through Cedar Row Farm Sanctuary's annual resue initiative that places chickens from a local high-production egg farm into loving forever homes.
Arriving at our place (the same day they were released from the egg farm) in September 2019, they experienced grass and sunshine for the first time in their lives. They are approximately 18 months old (as of Sept 2019), have a lot of missing feathers, wounds on their combs, and weak legs (all sadly commonplace when coming from a factory farm).  See the video in this post to see their arrival at Lily's Place.
They are settling into our place, learning to trust us, heal, and decompress. Follow their healing journey on our Instagram feed!
Their names and personalities...
Maple - this little lady's comb (the floppy bit on the top of their head) is extra big and looks like a flopped over maple leaf. She was the most curious and brave bird out of the flock upon their arrival.
Broom Hilda - or "Broomie" has Tim affectionately calls her, is one of our "big birds" and has had her feathers grow back the fastest (perhaps thanks to a little bit of magic). She also has an extra-long bottom beak which doesn't keep her from doing normal chicken things, but we have observed her eating a little bit differently than the rest in the flock.
Pearl - named after her extra pearly white ear lobes, Pearl is a sweet and curious bird. You can spot her in a lot of pictures and videos because if Tim's around she's watching him closely as he often has chicken treats!
Camilla - named after Gonzo's girlfriend in "A Muppet's Christmas Carol", Camilla is a bigger bird like Broom Hilda. Yet, unlike Broom Hilda who prefers to "hang out" with humans from a safe distance, Camilla isn't afraid to join the party now that she knows we mean her no harm. Like Pearl, she always keeps a close eye on Tim in case a treat materializes out of his pocket!
Sunny - cute as a button, Sunny is our smallest bird. Tiny, curious, and getting braver by the day, Sunny has really come out of her shell since coming to Lily's Place. She can often be spotted sunning her bum in a warm ray of sunshine (which is how she got her name)!
Emma & Watson
Joining us from the Windsor Humane Society on International Women's Day 2020, Emma and Watson are named after a woman who champions women's rights, Emma Watson.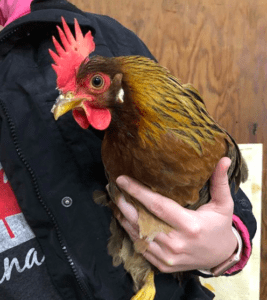 Emma is a young spunky little lady, and as we found out quite early, a very athletic bird and skilled flyer! She's shown here complete with food all over her beak and her comb looking punk-rocker mohawk!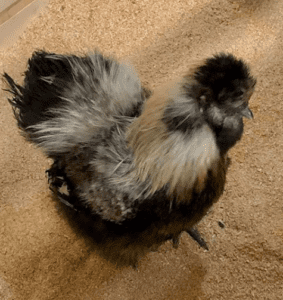 Watson is a silkie rooster and quite the character! He loves hanging around Emma (and she can often be seen following him around). Watson is a calm, friendly guy and despite his best efforts, the ladies haven't been wooed by his line dancing or Billy Ray Cyrus style mullet.
Sid The Sheep
Say hello to 6 month old Sid (born May 2019)!  Sid comes to us from Cedar Row Farm Sanctuary.
This backstory: Sid made his way to Cedar Row Farm Sanctuary as a two-week-old lamb with a broken leg. Sid's leg was broken shortly after he was born and he went two weeks with no medical care at the farm he was at. A compassionate person noticed and was able to re-home Sid to Cedar Row. Since then Cedar Row has nursed him back to health, including bracing his other back leg that started to turn in from compensating for the previously broken one. We're so thankful for the life-saving work Cedar Row has done for the last two decades, and for entrusting us with Sid! He's such a sweet amazing boy!
Arriving at Lily's Place at the end of September 2019, Sid has fit right in! He loves being around people and can be spotted joyfully running up to see us, following us around, and just hanging out. He's content to be doing whatever we're doing-especially if we happen to have fresh veggies in our pockets!
Betty White The Sheep
Betty came to us so Sid wouldn't be a lonely sheep! Sheep need at least one other sheep for companionship, and when Grey's Haven Farm Sanctuary let us know that Whispering Hearts Horse Rescue had taken in multiple animals (including 11 sheep) from a case of neglect, we reached out. See the video of all the animals, including Betty White, arriving at Whispering Hearts here.
Betty isn't used to being around people (so the complete opposite of Sid) but is learning to trust us quickly. She arrived at Lily's Place on October 19th, 2019 and we can't wait to get to know her better and watch her personality shine as she settles in.
Update #1: shortly after Betty's arrival, our vet performed an ultrasound and as we suspected Betty didn't come into our care alone. Turns out our suspicions were right and Betty is expecting! Her lamb or lambs are due in February.
Update #2: surprise! Betty's baby came early than expected! Gracie, a healthy baby girl was born on January 10th, 2019!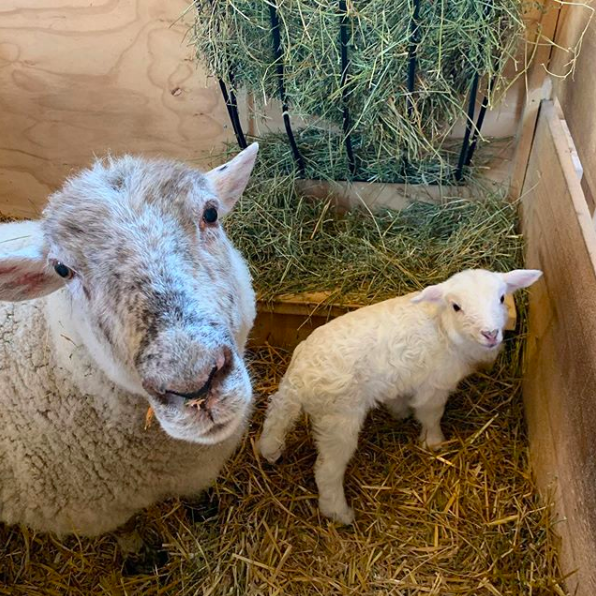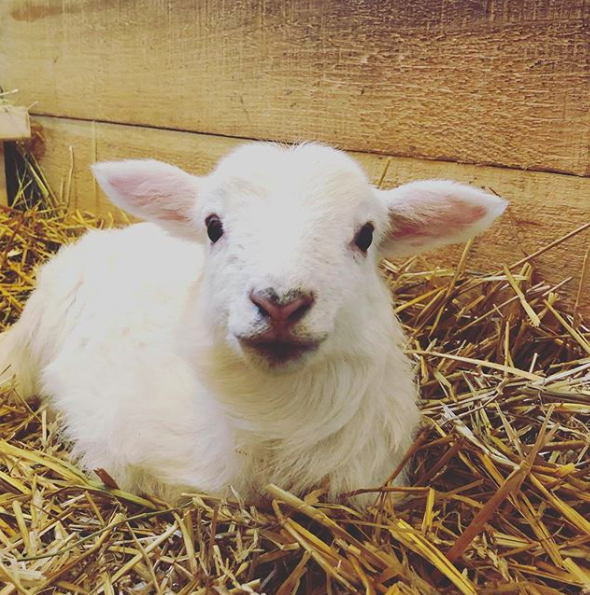 Gracie the Sheep
Gracie is Betty's baby girl (see Betty's bio to find out more about the pregnancy) and was born at 5 am on January 10th, 2019.
Gracie is so precious she was given a ❤️ for a nose!
Spunky and cute as a button, each day Gracie is exploring/learning about what life with momma Betty, step-dad Sid, and a flock of feathered aunties is like here at Lily's Place!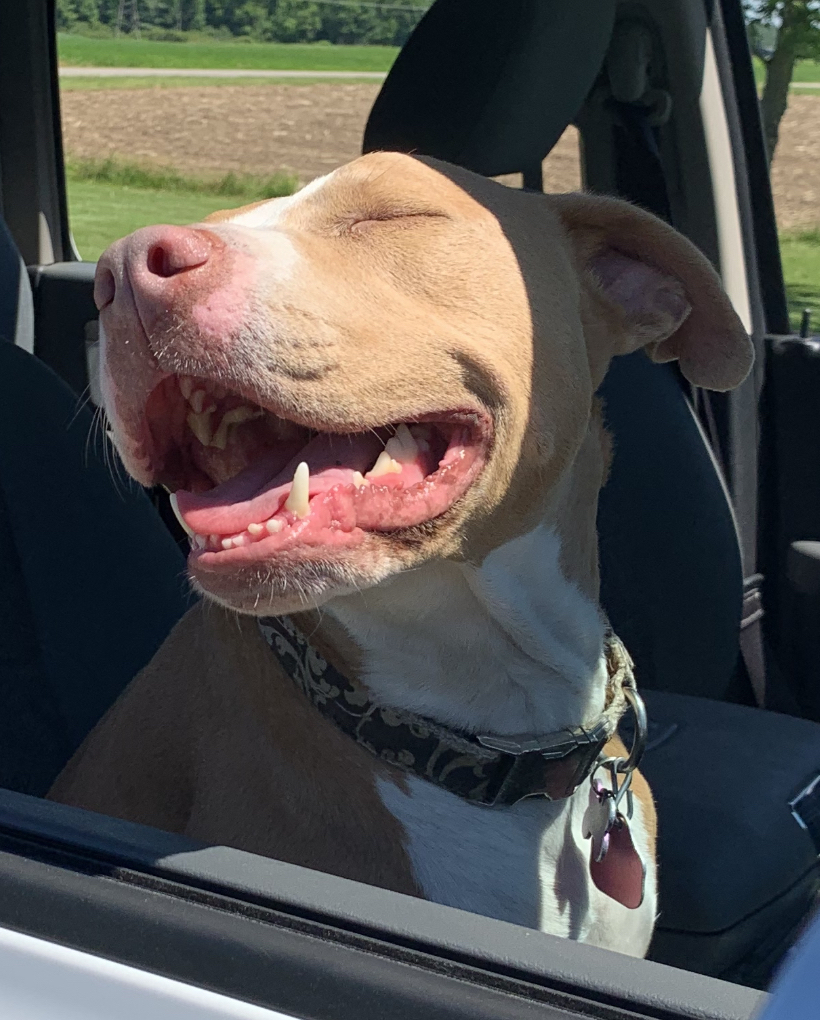 Support & Sponsor
We've got the space, now we just need the resources! If you'd like to financially support Lily's Place, direct donations can be made via:
All funds received will go directly to building comfortable housing (including fencing, bedding, and shelter) as well as covering medical expenses and food for our farm friends at Lily's Place.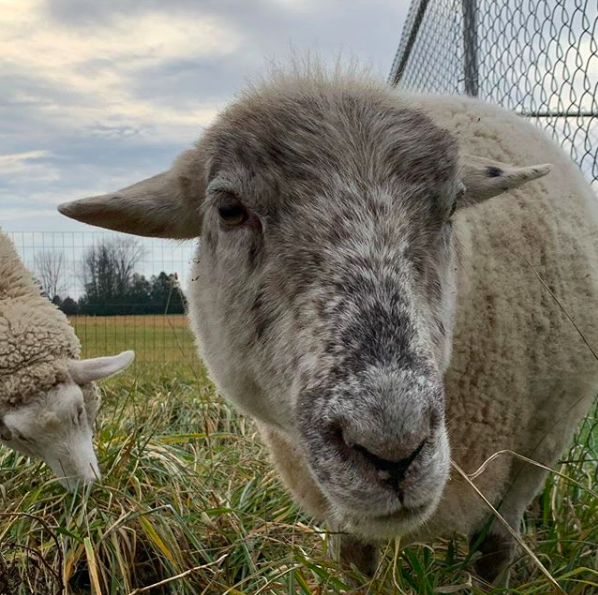 Donate
Amazon WIsh List
Use our amazon wish list to purchase items that can be delivered directly to Lily's Place, or see our wish list below for the items and volunteer positions we're in need of.
Physical Items
Sheep feed
Pine wood shavings
Straw or hay
Apples, carrots, pumpkins
Building supplies

2x4 lumber minimum length 4ft
8ft (or more) rough sawn pine
2x6 lumber minimum length 8ft
8ft pressure treated 4x4's or cedar posts

Gift cards to building supply stores like Home Depot or to TSC / farm feed supply stores)
SHOP
Shop to show your support! Check out the products whose proceeds go directly to Lily's Place Animal Sanctuary.
Volunteer
If you'd like to help Lily's Place by volunteering your time, here is a list of current opportunities.
Vegetables for the animals - can you partner with us to provide vegetable for the animals?
Fundraising support - can you partner with us for a fundraiser?
Veterinary support - medication and check-ups are a regular part of having animals. If you can help, please let us know.
Animal care support - specific animals have specific needs. We're looking to partner with those who are skilled at providing those special services (watch this space for updates).
Would you like to volunteer in a way that's not listed above? Please reach out to us with your idea 🙂
CONTACT
Reach out! We'd love to hear from you.
If you're experiencing an animal emergency, please call your local shelter, first responders, or veterinarian to be directed to the appropriate channel.