Vegan Friendly & Certified Cruelty-Free
We love animals and the environment as much as you do so we totally understand that cruelty-free ingredients are the only ingredients you want in your skincare products. It's all we want too! We take great care in picking the ingredients that make it into our products. Check out each product in the online shop for a full list of the ingredients!
The only non-vegan ingredients you'll ever find are honey and beeswax These are in less than 5% of our products). The beeswax and honey we DO use is locally sourced from only ethical apiaries (bee farms).
Grounded Sage NEVER tests on animals and never will. We also WILL NOT support any companies or suppliers who do! All our ingredients and products are certified cruelty-free.

Grounded Sage is certified cruelty-free by: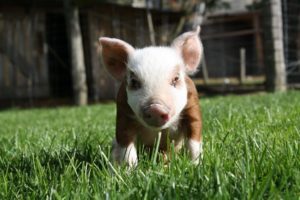 That cute little piggy is from Cedar Row Farm Sanctuary! His name is Joaquin!  We helped raise money for him with our piggy shaped soaps when he first came to Cedar Row and was in need of medical care. See his story and all the updates on his life here.