Grounded Sage believes in the power of communities, and that local charities are at the heart of each community. To support the vital work of local charities, Grounded Sage helps out whenever possible. Below is a list of charities, organizations, causes & community events that we've helped with.
WHO WE HELP – ONGOING
Bullies in Need: We continually donate to BIN to support their work helping "pit bull type" dogs in Ontario who face euthanasia daily due to Ontario's ban. At Grounded Sage, we love all breeds of dogs and feel the work that organizations such as Bullies in Need provide a much-needed voice for misunderstood "pit bull type" dogs in Ontario.
CanFix: We're an annual business sponsor of CanFix - Ontario's canine spay-neuter task force who are actively tackling the pet overpopulation problem with real, accessible solutions. Their work reduces harm for animals as well as people.
Lily's Place Animal Sanctuary
Lily's Place Animal Sanctuary is the small but mighty animal sanctuary founded by Jamie (the founder of Grounded Sage) and her spouse Tim. Each time you make a purchase from Grounded Sage, you're helping to provide food and care to the animals at Lily's Place.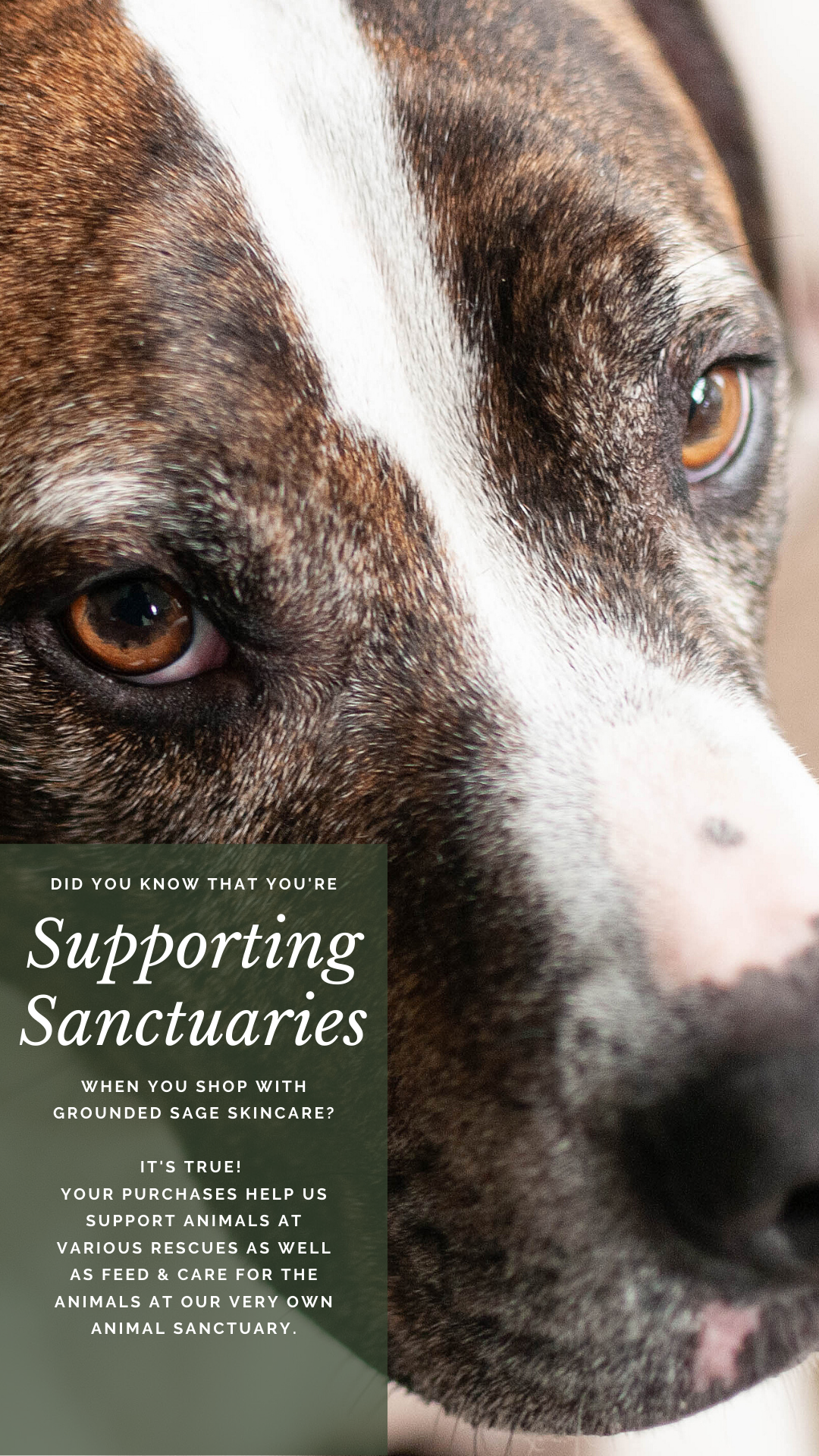 MORE CHARITIES WE'VE HELPED
Animal Aid (St. Thomas, ON)
Ador-A-Bull Dog Rescue
All Breed Canine Rescue
Animal Justice League
Animal Outreach Cat Rescue
Animal Rescue Foundation of Ontario (ARF Ontario)
Assaulted Women's Hotline
Beagle Freedom Project
Benevolent Barn
Big Brothers & Big Sisters Association of London & Area
Big on Beagles Rescue
Canadian Chihuahua Rescue and Transport
Canadian Cancer Society
Cedar Row Farm Sanctuary
Chatham-Kent Animal Rescue
Chicagoland Bully Breed Rescue
CIBC Run for the Cure
Dog Tales Rescue and Sanctuary
Edward Street Public School (St.Thomas, ON)
Earth Magic Learning Garden (London, ON)
Gomez's Second Change Surgery
Grey Boy Fundraiser (Memorial for our good friend Emily Ugarenko)
Happy's Place (senior dog rescue)
Holly's Hope
Humane Society of Hamilton County
Ladyfest (London, ON)
Lemon Ranch Animal Sanctuary
Lighthouse Farm Sanctuary
London's Children Hospital
London Humane Society
MS Society of Canada
Never Muzzled
New York Bully Crew Inc.
No Dog Forsaken
Operation Smile
Ovarian Cancer Canada
Rabbit Rescue Inc
Refuge RR for Horses in Alexandria, ON
Relay4Life
Renfrew County Branch of the Ontario Society for the Prevention of Cruelty to Animals
Sarnia & District Humane Society
Second Chance Auction Animal Rescue
Sea Shepherd Conservation Society (The Forest City Meets the Ocean -London, ON)
Stray to Play Dog Rescue
Swift Care Ontario
The Big Fix TNR Grassroots Rescue
Toronto Wildlife Centre
Walk for Ovarian Cancer
Young Adult Cancer Canada
Each November, the proceeds from each full-size bar of soap sold by Grounded Sage is donated to charity. Find out more about the soap drive here.