Treating Acne Holistically – an acne journey that used organic skin care for acne instead of Accutane.
JM's Skin Journey: including before and after skin care pictures
Today we're sharing something a little different on the blog: a customer's radiant journey with their skin as told in their own words. For privacy, we'll call this radiant rebel JM. Here's what she had to say…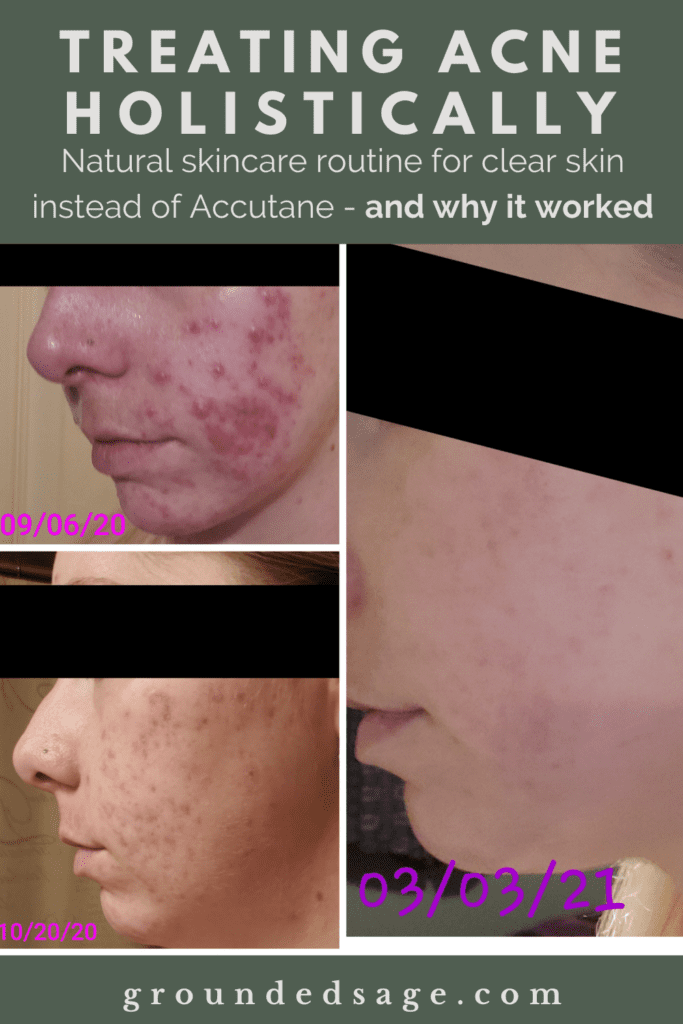 "In August, I went dermatologist because my skin was really bad. My skin hurt so much, it felt like I had windburn all the time, and my skin would flake off with the lightest touch. It was awful and I was miserable.

The dermatologist told me my only option was to go on Accutane. I didn't want to do that, so I started doing research and stumbled upon Grounded Sage (specifically, the hydrating gel and information about dehydrated skin). I figured I'd try one more thing before starting Accutane. This was the best decision I could have made!

Today, my skin is healthy and feels amazing! The scarring has really improved. Even though my skin isn't perfect, I love the results and couldn't be happier!

I appreciate you (Jamie) going through the acne struggles and developing these products for people like me. If I had gone the Accutane route my skin would have been worse, and I would still be dealing with it. I personally found reading people's experiences and all the information in the blogs to be extremely helpful! That's how I figured out that dehydration was a HUGE factor in my breakouts.

Over the past few months, I have tried many of your products, but below is my typical routine. The hydra healing skin rescue gel was the main product I used that helped my skin heal and reduce my breakouts. It will continue to be a staple in my routine as I live in Alberta and it's always dry. The Vitamin c + probiotic facial serum is what I think helped the appearance of my acne scars.

I have not tried the cleaners yet; I started using Cetaphil while I was waiting for my first Grounded Sage order."

The Step By Step Facial Routine
Below you'll find the skincare steps in order that JM followed for her morning and night routine. JM learned to layer skincare products in a way that was the most soothing and healing for her.
For example, note that she used a wet, hydration-rich gel skincare product like the hydra gel or acne gel mask before layering over vitamin c facial serum (which is also hydrating, but not a gel) in her morning and night skin care routines. She also finished her acne routine off by sealing in all that hydration with a facial lotion, a creamy overnight facial mask, or a hydration-rich night cream.
She also gave herself options each day – in the morning she rotated her hydrator (step 2). In the evening, she rotated her moisturizer (step 3). This is a great example of embracing an intuitive approach to skincare!

Acne Morning Routine:
1. Acne clarifying white willow bark & probiotics – good morning micellar cleansing water
2. Hydra healing skin rescue gel
or
Acne + oil balancing hydrating facial mask
3. Vitamin c + probiotic facial serum
4. Hemp hydrate and highlight facial lotion

Night Skin Care Routine For Acne:
1. Remove makeup with cloth & water
2. Cetaphil Gentle Cleanser
3. Hydra healing skin rescue gel & Pumpkin enzyme cream facial mask with probiotics
or
Acne + oil balancing hydrating facial mask & Blueberry & cornflower hydra well night cream

Need some guidance around figuring out your personalized natural clear spots solution?
The best place to start is by downloading our free workbook (no strings attached).
Simply put, we look at what actually causes acne (it's not bacteria!) and take an inventory of where the development of acne is happening for you long before it ever shows up on your skin.
With that personalized insight, you'll have a clear roadmap to stopping the process of acne before it even gets started!
Grab the free workbook here.

Pin for later: