Your Grounded Sage Floral Aura is Periwinkle!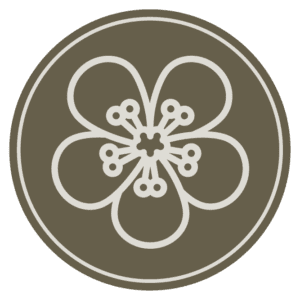 Hello beautiful! Let's get to know your skin better!
By the time you finish checking out this page, you'll know:
The benefits of being a periwinkle
What specific actions to focus on to achieve balance as a periwinkle
Pitfalls to watch out for as a periwinkle
Our top product picks for periwinkles
Extra periwinkles specific resources
You've landed here because you can say yes to at least 4 of these points
You did the Grounded Sage Detox Kit for a minimum of 4 weeks
You would describe your skin as not being more oily than dry OR more dry than oily
You don't find that your skin is prone to dryness
Breakouts aren't a regular challenge for you
Your skin does not suffer from redness
You're not overly concerned about hyperpigmentation
You wouldn't describe your skin as being sensitive

Benefits of being a Periwinkle
Your skin tends to be super resilient and can handle a lot being thrown at it.
Because of the healthy levels of moisture and hydration in your skin, it's less likely to show signs of aging as fast as stressed / inflamed skin
Your skin has become well balanced, or you were born with great "skin genes". Either way, now you may not have to work as hard as some other skin personalities to have radiant, glowing, healthy skin!

Your Top 3 Focuses for balanced skin are
Maintaining balance: Consistency is key for Periwinkles. You want to maintain the balance you've worked hard to achieve, so stick with and avoid getting lazy with your routine. This also means staying on top of the products you're using to make sure there's nothing about them that will throw your skin's harmony out of balance.
Protecting your skin: Staying consistent with clean and kind skincare will do most of this for you, but you also want to make sure you're taking into consideration other types of skin protection like SPF. Look for products that contain natural sun-blocking ingredients like Zinc and Titanium Dioxide, as well as antioxidants that neutralize free radicals. Protecting your skin will help it maintain a youthful appearance for as long as possible.
Seasonal changes: While your skin can handle a lot, this also means it can take longer for your skin to let you know when it's unhappy. Be prepared to assess your skincare routine in correlation with seasonal changes to ensure you're meeting its current needs.

Top 3 pitfalls for a Periwinkle
Not having a fully balanced routine! Every skin care routine needs to contain a cleanser, exfoliator, hydrator, and moisturizer. Each piece is interconnected and missing just one of these can perpetuate your skin concerns.
Becoming lazy with your skincare routine. We all suffer from a lack of drive from time to time, but breaking bad habits will ensure you're maintaining a state of balance. Avoid negative actions like going to bed with makeup on and make your routine a part of your everyday to-dos.
Not adjusting your routine based on seasonal needs: It's easy to get comfortable with our skin care products when we find something that works. We are all for celebrating the wins; just don't ignore the fact that our skin's needs change with the seasons. Each season can bring new challenges for even balanced skin, so be sure to reassess with the changes.

Resources every Periwinkle should read

Made it here without taking the Floral Aura Skin Personality Quiz? Oops! Let's make sure you're right the right spot. Head over here to take the quiz now.