This skin mapping chart is a valuable tool when it comes to solving acne and other chronic skin concerns holistically and naturally. Scroll down to check out the acne face map and read about how to use it to help you discover how to get healthy, glowing, clear skin.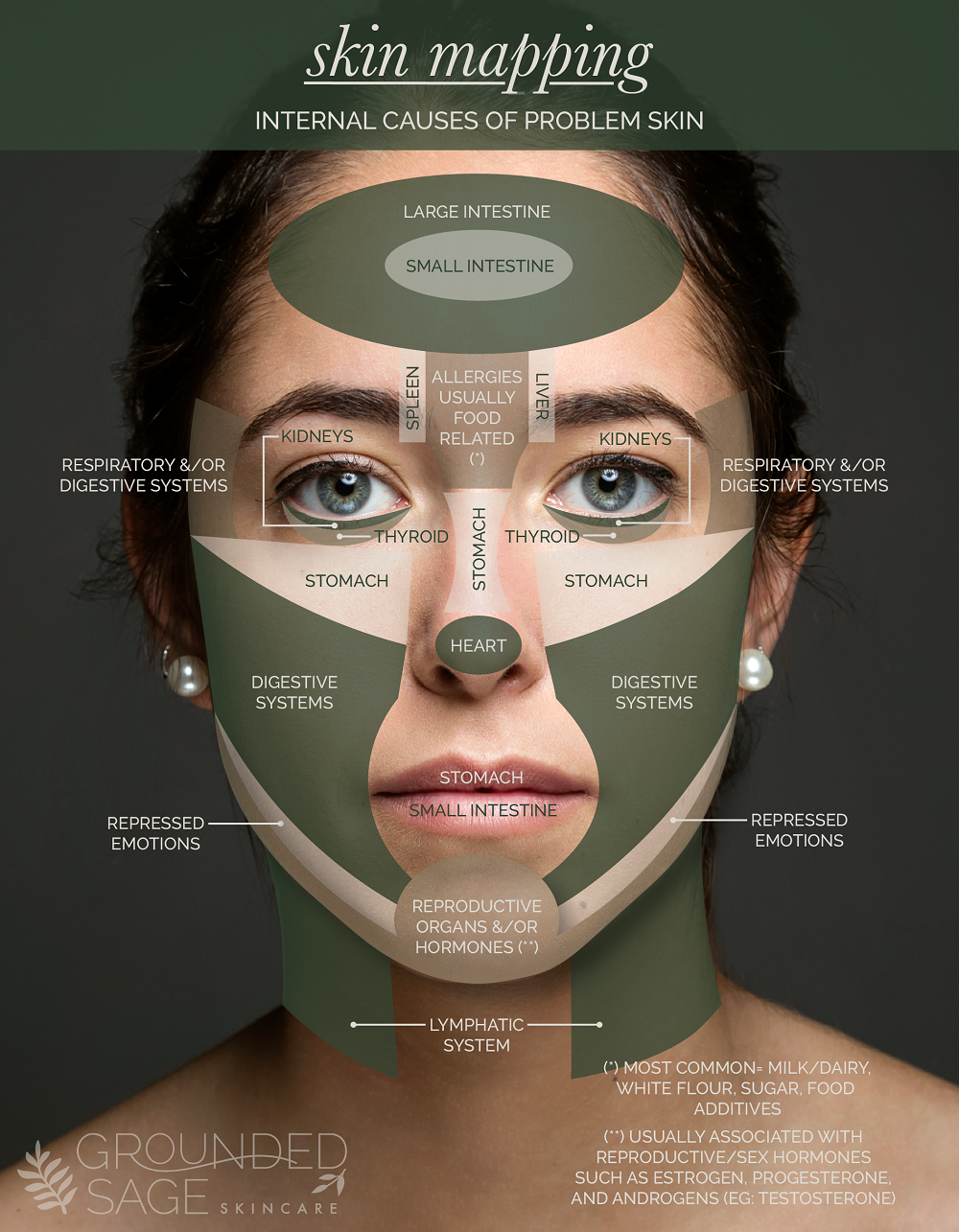 Click HERE for a downloadable version of this chart

The acne face map above helps you "read" your face and can tell you what internal systems might be playing a role in any skin issues that are visible from the outside.
For example, if you've been struggling with chronic acne on your chin, by looking at the chart, you can see that hormones may be the internal cause. Each area has common issues like being unbalanced, not working efficiently, etc. Often, more than one internal cause is present. In our example of chronic chin acne, unbalanced hormones are a common cause.
Ok, great – so you know that something with your hormones could be causing chronic chin acne… now what?
Now you'll want to find kind and clean ways to help support your body in this area.
Since going over all the ways that someone can support different internal systems is beyond the scope of this blog post, I will mention that a good place to start (with all areas listed in the chart) is with your diet (including consuming herbal/botanical teas and focusing on anti-inflammatory foods). Focus on a diet that contains lots of whole foods, minimum food additives and lots of greens (I get my greens by mixing up a daily smoothie. Here's a recipe to get you started or just add fruits you love plus lots of greens and water. In place of water, I like to use pineapple juice.
The purpose of the acne skin map is to give you another tool in your resource kit for tackling skincare problems.
Remember that the key areas for solving skincare problems include…
A skincare routine that focuses on clean & kind ingredients
Internal balancing (find out which areas to focus on by referring to the chart)
Emotional well-being / Stress reduction (yoga anyone?)
Focusing your efforts evenly between the 3 key areas mentioned above will give you a leg-up on problem skin!
Check out our free holistic healing acne workbook for guided support.


For more help with skin mapping…
Until next time,


Pin this article for later: