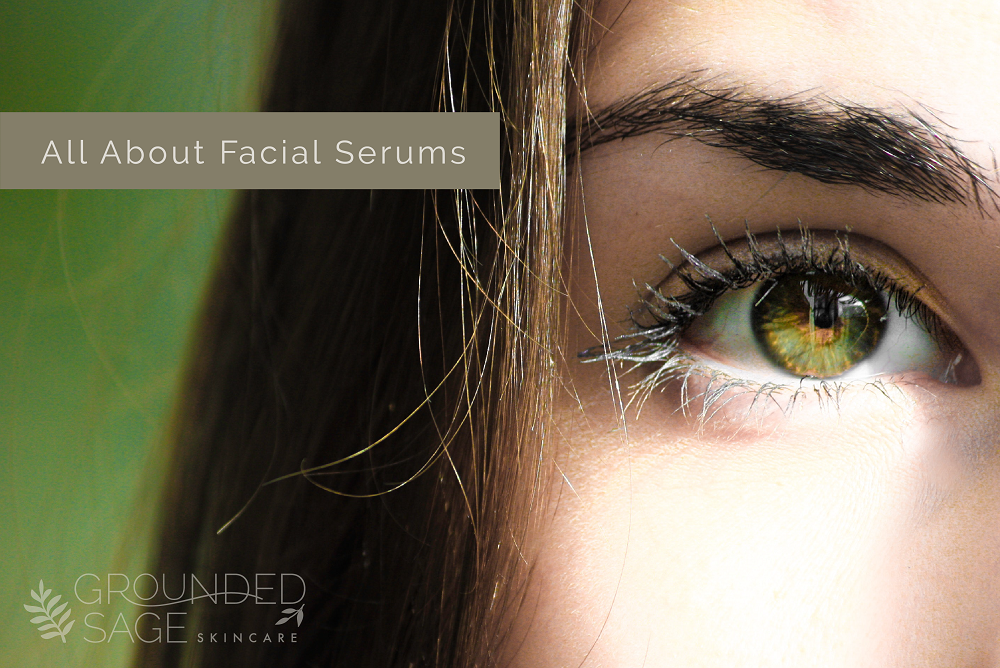 I don't believe in adding in more products into your skincare routine then needed so you might be wondering why I've added serums to my line!
First off, I use them all the time! Why? Because serums are liquid tonics that are packed with vitamins, anti-oxidants, and ingredients that contain active properties that target specific concerns. If there's something specific you want to work on, serums are an easy way to add some extra oomph to your routine!
Secondly, serums are formulated to penetrate deep into your skin so they can heal and target specific concerns. They are able to penetrate deeper than moisturizers and can help restore skin to a balanced state and isn't that the point?

But I already use a moisturizer! Why add a serum?
Although serums can be hydrating, their main purpose is to add nutrients deep into your skin that a moisturizer isn't able to reach. However, keep your moisturizer in your routine! Applying your moisturizer after you apply a serum will lock the serum into your skin allowing the serum to do its best work without evaporating into the air.

All my targeted serums are available online here.
Or keep reading to find out more about each serum in the line!

The Serum Line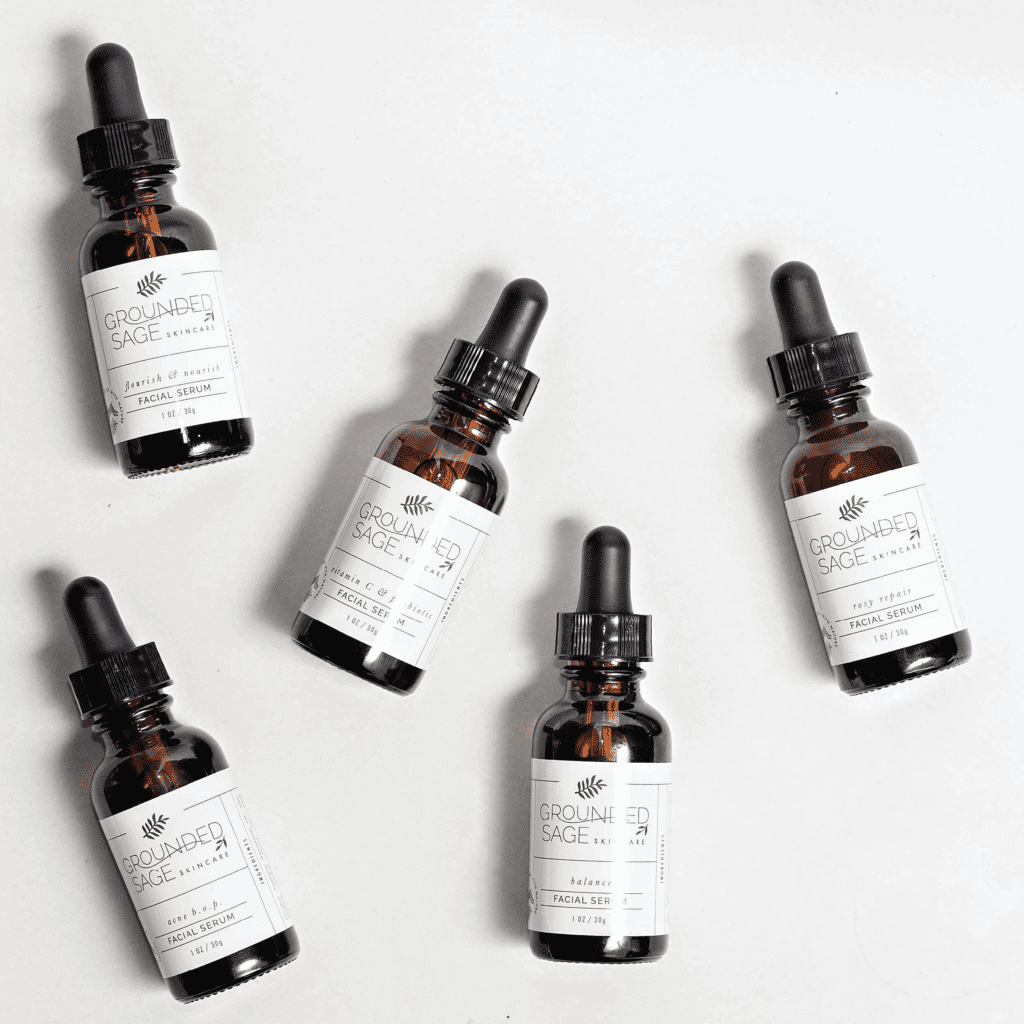 Keep reading to find out makes each of these serums awesome!

F & N (flourish and nourish) Serum
Mature Skin Support
What makes the Flourish & Nourish Serum so awesome …
Mature skin needs extra support as skin turn over slows down and moisturize is easily lost – not to worry though! The Flourish & Nourish Serum is packed with exactly what mature skin needs to stay soft, supple, and balanced.
Specifically, the ingredients in this serum:
support skin cell turn over
hydrate and softens up skins' texture (which reduces the appearance of wrinkles and fine lines)
provides anti-inflammatory properties
reintroduces essential nutrients that are depleted over time
address years of environmental damage and stress (such as sun, wind, dry air, pollution, etc)
reverses dull, parched skin
helps to balance hormones

Rosy Repair Serum




Rosacea Support
What makes the Rosy Repair Serum so awesome …
This serum helps calm inflammation, soothe irritated, sore skin, and diminishes redness. I've had picked the best ingredients Mother Nature has to offer to reverse rosacea! They are ingredients that are regenerating, soothing, are similar to your skin's natural lubricant (sebum), nourishing, softening, healing, deeply penetrating, moisturizing, calming, and have excellent anti-pigmentation properties!

Acne B.O.P. Serum


Congestion Support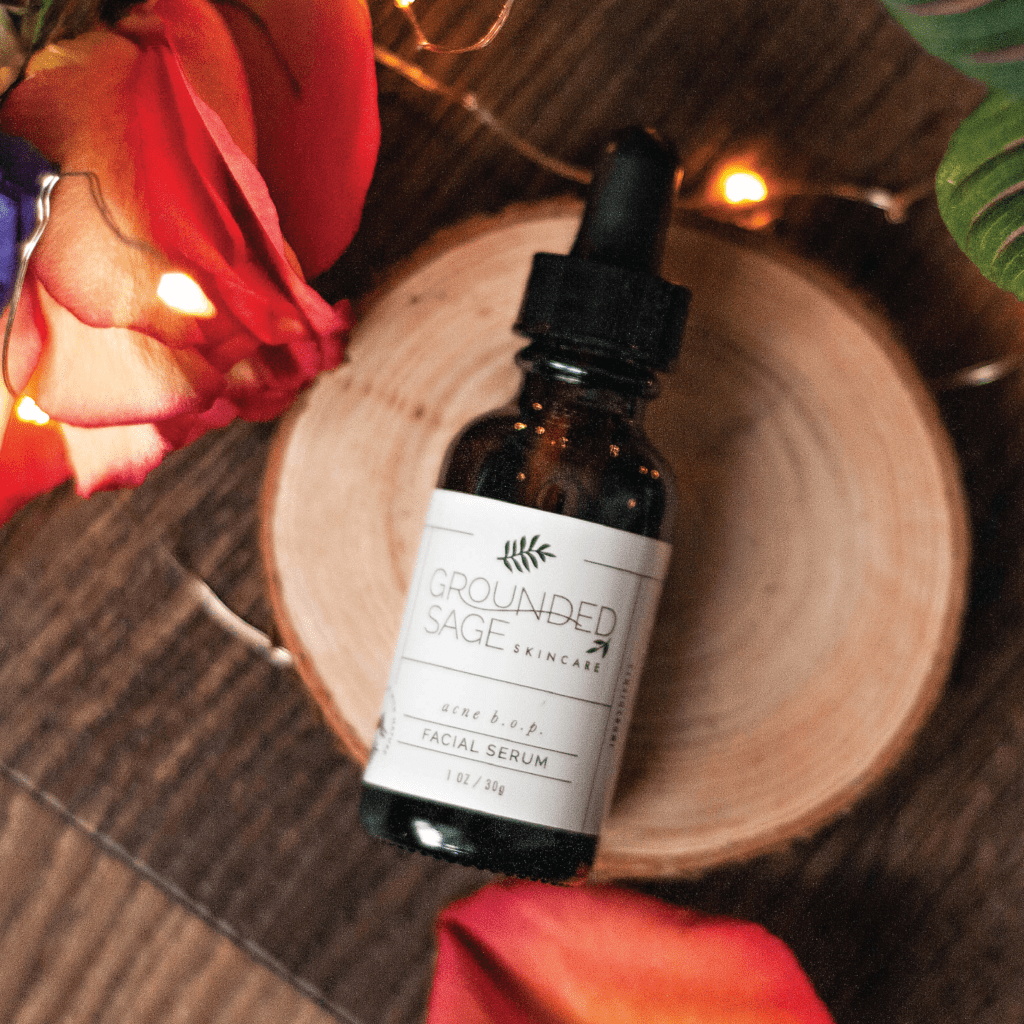 What makes the Acne B.O.P. Serum so awesome …
When blackheads, excess oil, and enlarged congested pores have overstayed their welcome, add my Acne B.O.P. serum to your routine to give them the boot!  This serum is designed as a concentrated treatment for a very specific problem (problems that just happen to be the biggest culprits of acne breakouts and lowered self-esteem). In fact, this serum tackles "the big 3" problems so well, it's named after them!
B – Blackheads … This serum helps detox & purify those bad boys!
O – Oil … This serum balance excessive oil production. When this is balanced and skin is exfoliated regularly, acne is stopped before it can start.
P – Pores … as in enlarged, congested pores. The serum helps wash out and clear up congestion so pores can heal and relax.
The ingredients in this serum help balance oil production, clear out congested enlarged pores, and help purify blackheads (bye bye blackheads!).

Balance Serum
Oily-Prone Support
What makes the Balance Serum so awesome ….
The Balance Facial Serum has ingredients that are similar to your skin's sebum (your skin's natural oil barrier), which is a good thing. Why? Because our skin often starts overproducing oil in response to its protective barrier being depleted or damaged. By adding this serum to your skin, over time, your skin notices that a healthy and complete barrier has been created and this slows down the production of oil!
If that wasn't awesome enough, excess oil (sebum) actually dissolves into the Balance Facial Serum (thanks to jojoba oil!). What that means is, not only does this serum work towards solving oily skin in the long term, it also helps break down excess oil in the short term!

Vitamin C & Probiotic Facial Serum
Antioxidant-rich for evening skin tone
What makes the Vitamin C & Probiotic Facial Serum so awesome ….
Our Vitamin C & Probiotic Facial Serum packs a lot of skin benefits into an easy to apply, fast absorbing, skin smoothing serum. The antioxidants give our skin a gentle, helping hand against environmental stressors like pollution and the damaging effects of free radicals on our skin.
Powerhouse antioxidant Vitamin C provides our skin with skin tone brightening and balancing, while also offering support to skin's collagen production. Vitamin B3 supports our skin's elasticity, a healthy lipid barrier, and adds even more skin tone balancing benefits.

How to use serums
Apply your serum after applying your hydrator (if you're using one), and before your moisturizer. While moisturizers help lock serums into your skin, serums help lock mists into your skin!  You don't have to wait for the mist to fully absorb before applying your serum.  But you should wait a few minutes between applying your serum and moisturizer.
Apply any time after you wash your face
Since serums are hydrating, they can be a great alternative to a thick moisturizer during the hottest most humid days of summer! Skip the moisturizer during the day and opt to use it at night instead.
During the winter, our skin needs extra help staying hydrated and protected from the elements. Layer-up your protection by using a mist, serum, and moisturizer before heading out into the cold (or spending a lot of time in the dry indoor air!).
Until next time,


Pin this article for later: