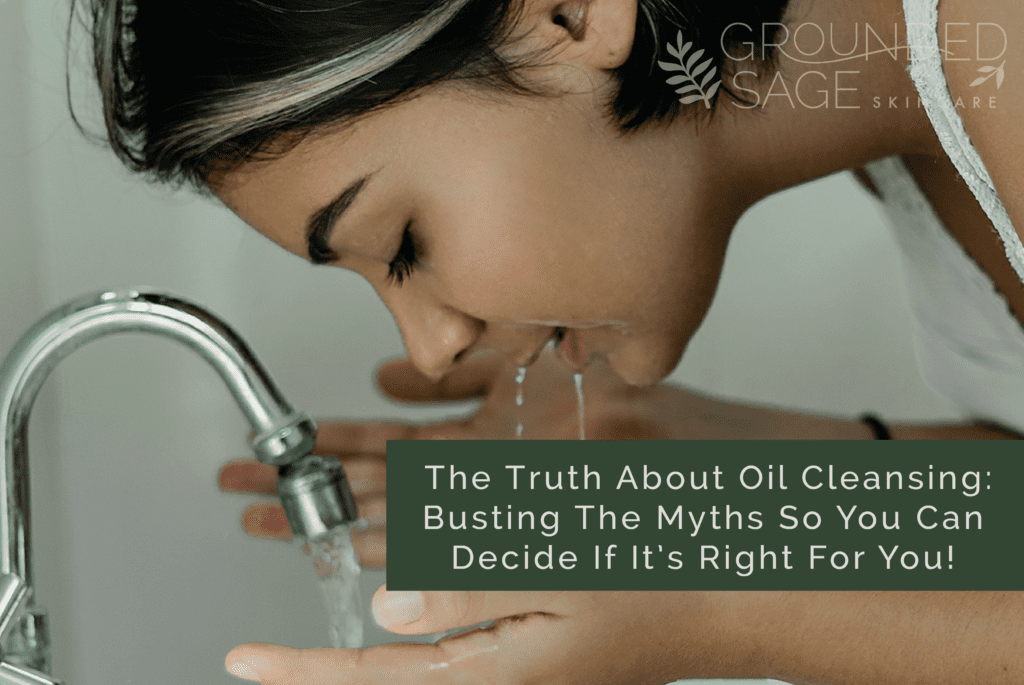 After years of being told that using oils on our skin will lead to blackheads, breakouts, and more oil, it's no surprise that there are a lot of myths around using oils in skincare. More on where the fear of using oils came from in this post.
Sadly, the idea that avoiding oil was the way to go kept me from finding a skincare routine that worked for me for a long time! The key is to find the right oils – oils that support our skin's lipid barrier, calm inflammation, breakdown clogs in our pores, and gently remove dirt, debris, and makeup.
In this post, I'll run through 2 of the persistent myths around using oils in skincare – particularly when using them to cleanse with.

Myth 1: Oil Cleansing Clogs Pores
This myth is understandable – there are a lot of oils out there that aren't great for cleansing the skin with. It's also an understandable myth because it's a half-truth! Let me explain
Some oils will clog pores for specific skin types. The tricky part is that no two people are the same. For example, some highly acne-prone folks can use rich oils that would cause other folks with highly-acne prone skin to breakout.
However, just because some oils have a love/hate relationship with our skin depending on the dosage, our skin, and how we're using them, that doesn't mean all oils act this way. Thankfully, other oils remove the risk pore clogging chaos and are well tolerated by even the most congestion/acne prone skin types.
I'm a perfect example of that! My skin is sensitive, clogs easily, and is prone to cystic, widespread acne. And guess what? I cleanse with an oil cleansing blend without any issues. In fact, my skin stays clearer when I've regularly included an oil cleanser into my routine.
Plant-based oils that are great for oil cleansing without the risk of congestion are:
Wild Basil (Perilla) Oil – minimizes the appearance of large pores, reduces excess oils (sebum) production, gently cleanses without disrupting our lipid barrier.
Safflower Oil – a gentle, deep cleansing oil that breaks up blackheads and impurities in the skin, minimizes inflammation on the skin and leaves skin feeling soft and smooth.
Cucumber Seed Oil – a refreshing lipid barrier-supporting oil that leaves the skin smooth and shine-free. Its high antioxidant content (including vitamin E) soothes acne, sensitive skin, and redness.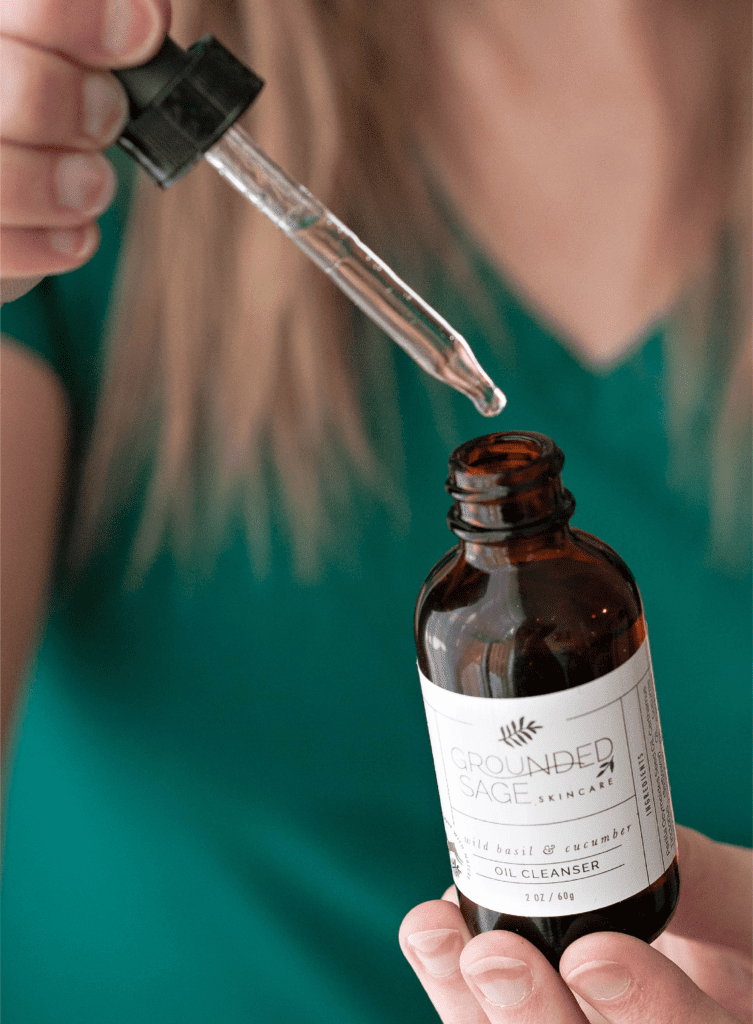 Find all 3 of these oils plus Elderberry (a super fruit that is packed with antioxidant, anti-inflammatory, antimicrobial, and astringent benefits) in our Wild Basil & Cucumber Oil Cleanser.

Myth 2: Oil cleansing Causes Breakouts
We've already established that by using non-comedogenic plant-based oils, clogged pores isn't a problem. But acne is more than just clogged pores. It's also affected by our lipid barrier, microbiome (bacteria on our skin – and whether or not they are in a happy, balanced state) and inflammation. Not to mention all the internal factors that need to be addressed to clear acne like internal sources of inflammation, blood sugar spikes, hormonal imbalances and fluctuations, and more.
Oil cleansing with the right oils can support a healthy lipid barrier, balanced microbiome and reduce inflammation – 3 of the most important external factors for keeping skin clear, calm and comfortable! Especially when paired with a soothing hydrator and calming moisturizer.
Essentially, you want to aim for a skincare routine (paired with a holistic internal approach) that is calming and supports of your skin's ability to heal itself. This includes topical ingredients that are gentle, and full of antioxidants and skin supporting lipids. Have a look at my daily skincare routine here. It also consists of a lifestyle that focuses on keeping inflammation low.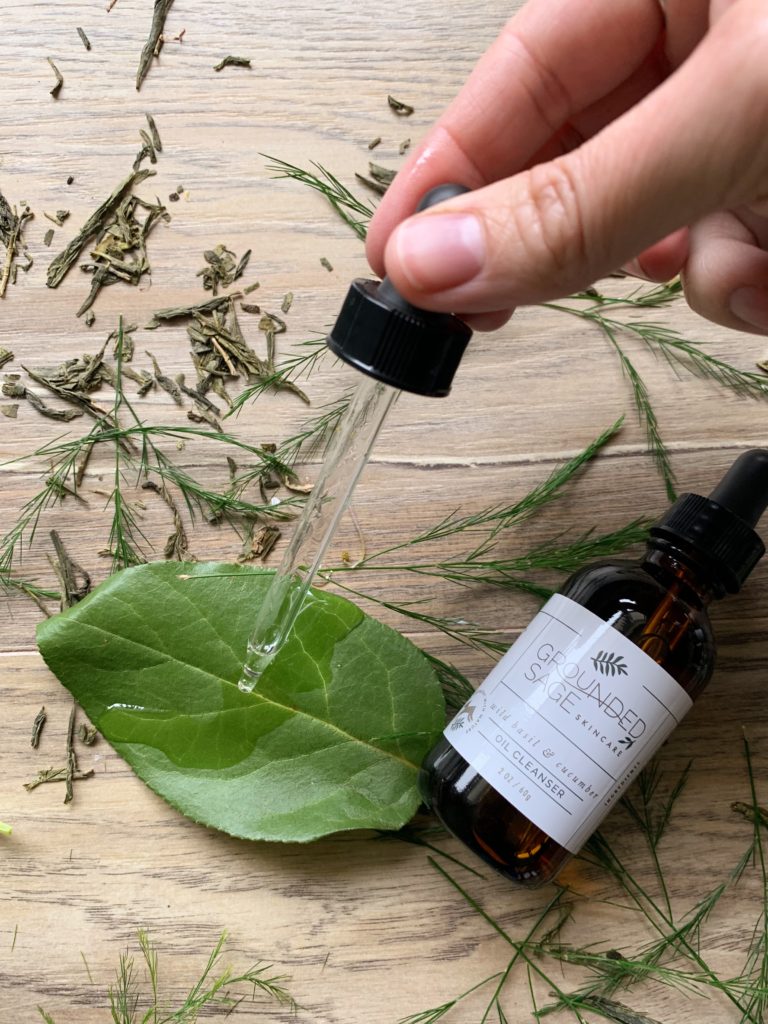 What to learn more about what causes breakouts? Check out this post.
Until next time,


Pin this article for later: