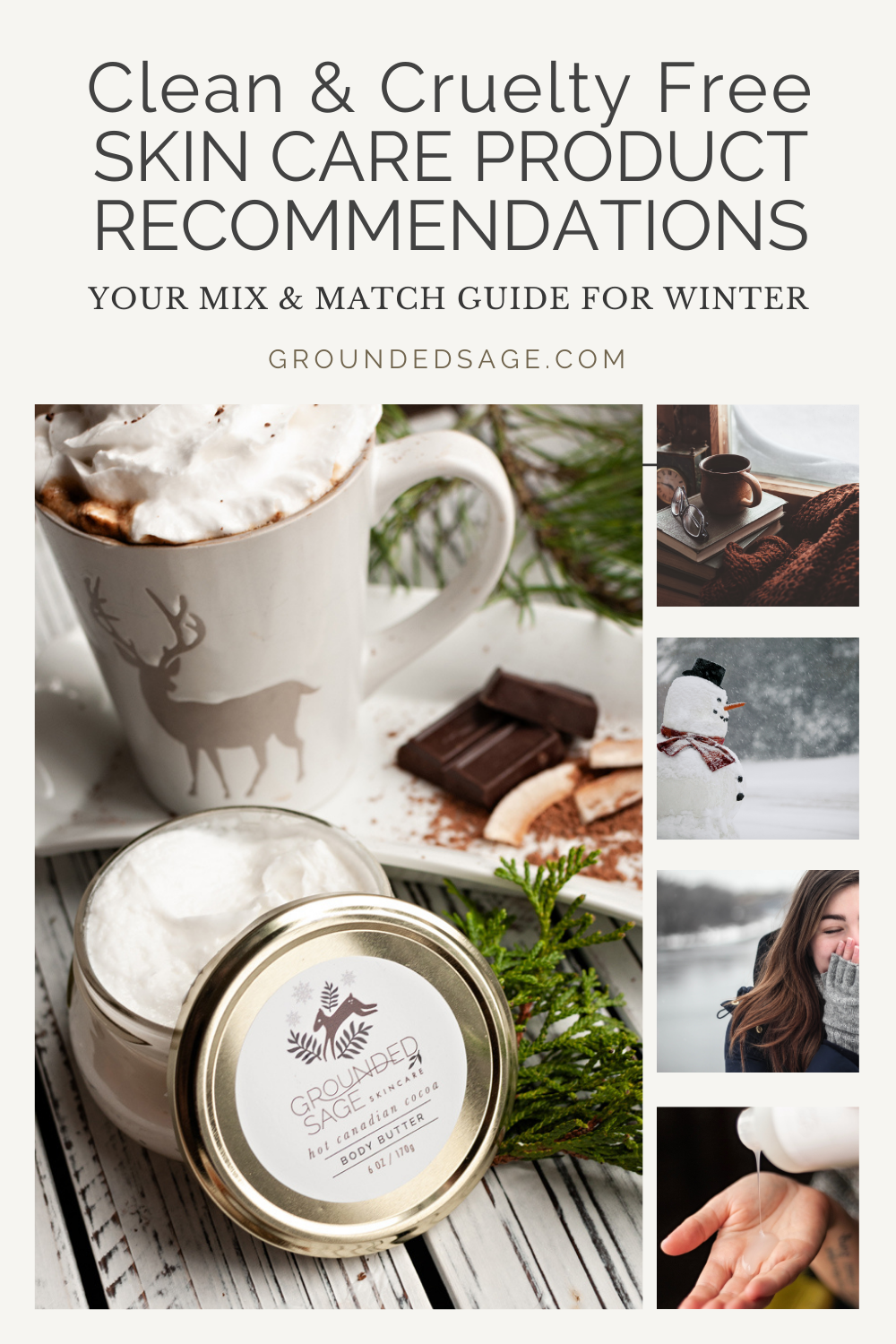 Hello Beautiful,
It's that time of year again – the time when our skincare routines really get put to the test.
We're all about living in harmony with nature around here and adjusting our skincare routines as needed goes hand-in-hand with following the natural rhythm of the seasons.
Below you'll find a mix and match guide to natural, clean, and cruelty-free face and body skincare products to help keep your skin healthy all winter long.
I've broken the guide up into common skincare concerns that can crop up depending on our skin type, climate, genetics, lifestyle, and a whole host of other considerations.
Because we all have a unique blend of internal and external factors contributing to the health of our skin, it makes sense to be able to cherry-pick the products in our winter skincare routine based on what concern you're trying to target.
This approach to routine building works especially well if you're currently using products that are working well for you but could just use a little extra support with a particular concern that's cropped up.
Concerns I cover in this guide include:
facial redness
facial tightness (dehydrated skin – it's not the same thing as dry skin)
dry skin on the face
flaky skin on the face
having fun outdoors
eczema (dry type)
cracked heels
flaky skin on the body
dry hands
Ready to dive into the guide? Let's go…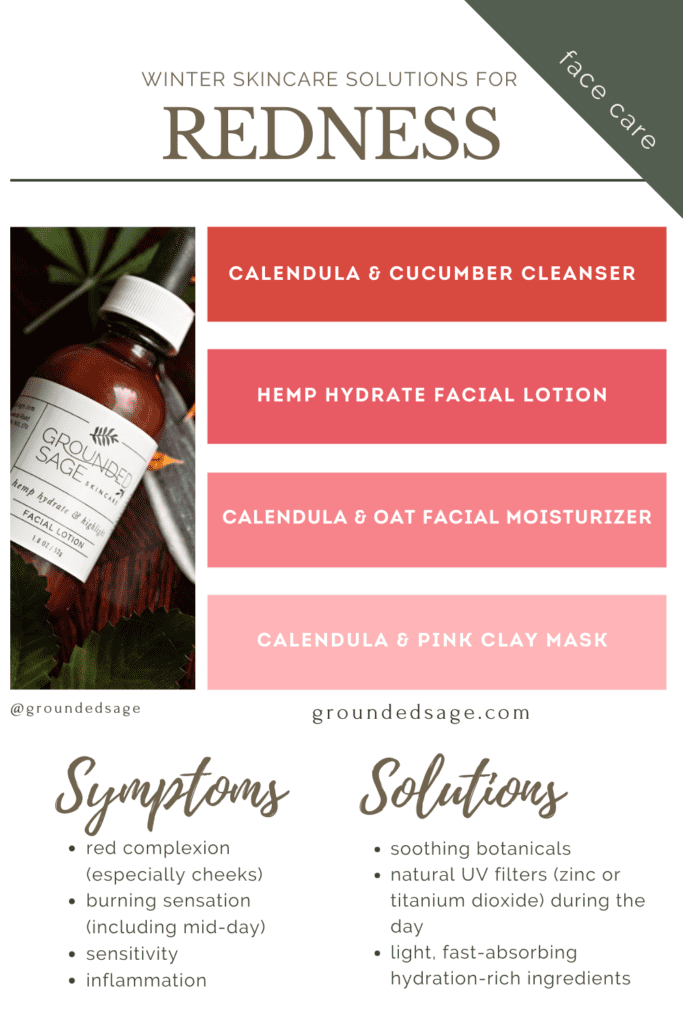 facial redness
Symptoms:
red complexion (especially cheeks)

burning sensation (including mid-day)

sensitivity

inflammation
Solutions:
soothing botanicals

natural UV filters (zinc or titanium dioxide) during the day

light, fast-absorbing hydration-rich ingredients
Products Mentioned in the REDNESS (FACE CARE) Guide: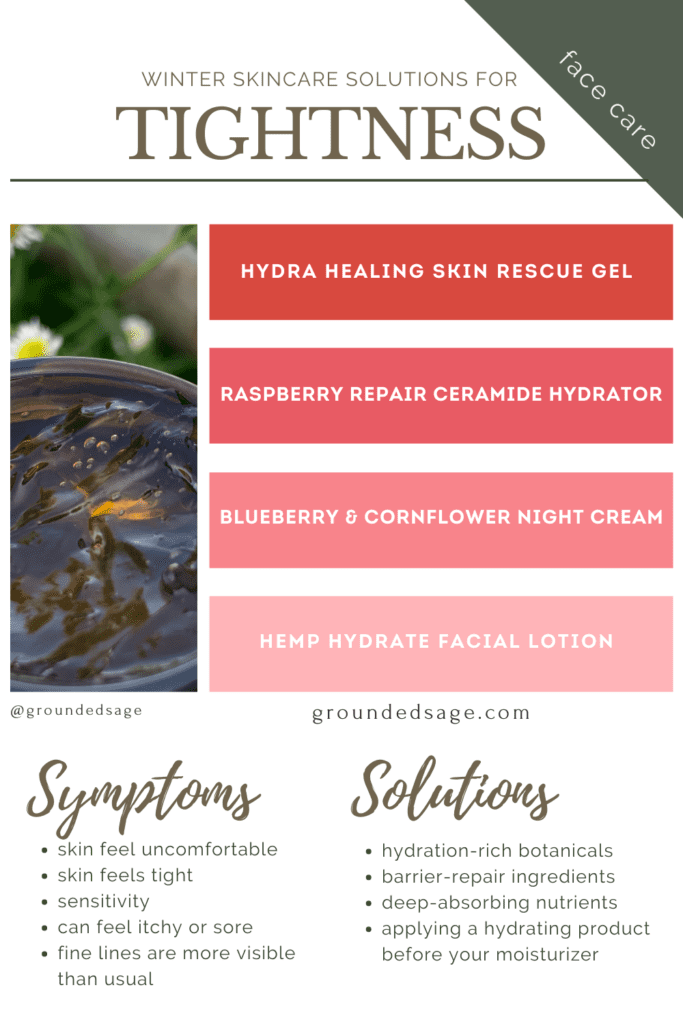 uncomfortable facial tightness (aka dehydrated skin)
Symptoms:
skin feel uncomfortable

skin feels tight

sensitivity

can feel itchy or sore

fine lines are more visible than usual
Solutions:
hydration-rich botanicals

barrier-repair ingredients

deep-absorbing nutrients

applying a hydrating product before your moisturizer
Products Mentioned in the TIGHTNESS (FACE CARE) Guide: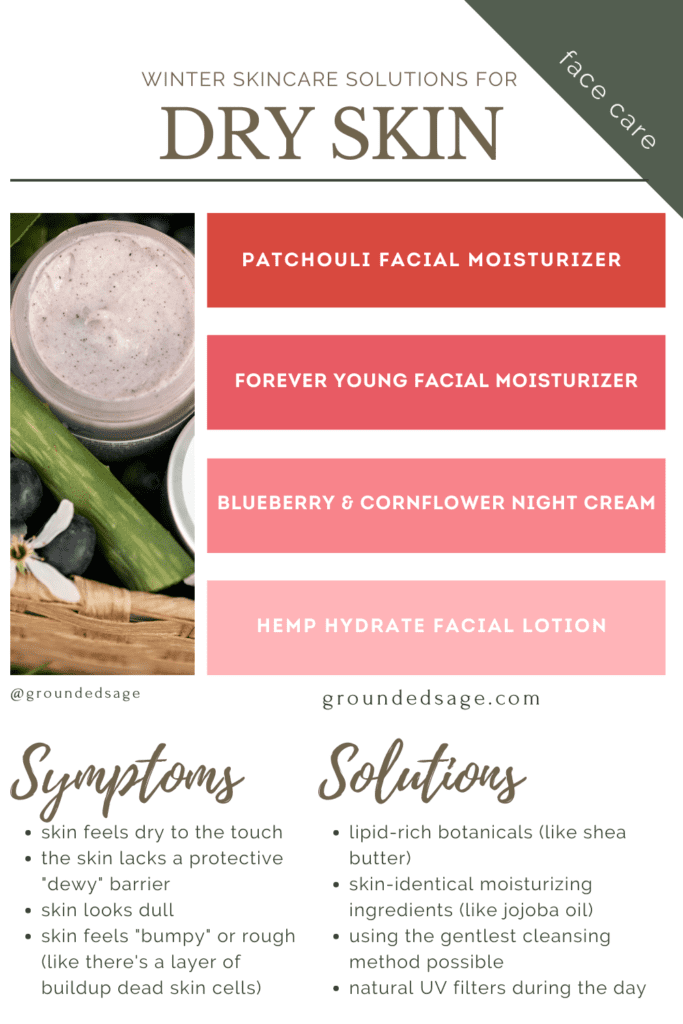 dry skin (on face)
Symptoms:
skin feels dry to the touch

the skin lacks a protective "dewy" barrier

skin looks dull

skin feels "bumpy" or rough (like there's a layer of buildup dead skin cells)
Solutions:
lipid-rich botanicals (like shea butter)

skin-identical moisturizing ingredients (like jojoba oil)

using the gentlest cleansing method

natural UV filters during the day
Products Mentioned in the DRY SKIN (FACE CARE) Guide:


flaky skin (on face)
Symptoms:
flaky skin due to protective barrier being damaged

windburn, harsh skincare treatments, exposure to extreme temperatures – including indoor heating

exfoliating with a scrub that's to rough for your skin (which continues to damage and remove its natural protective barrier)
Solutions:
discontinue use of abrasive scrubs (if using)

barrier repairing ingredients (like ceramides)

skin-identical moisturizing ingredients (like jojoba oil)
Products Mentioned in the FLAKY SKIN (FACE CARE) Guide: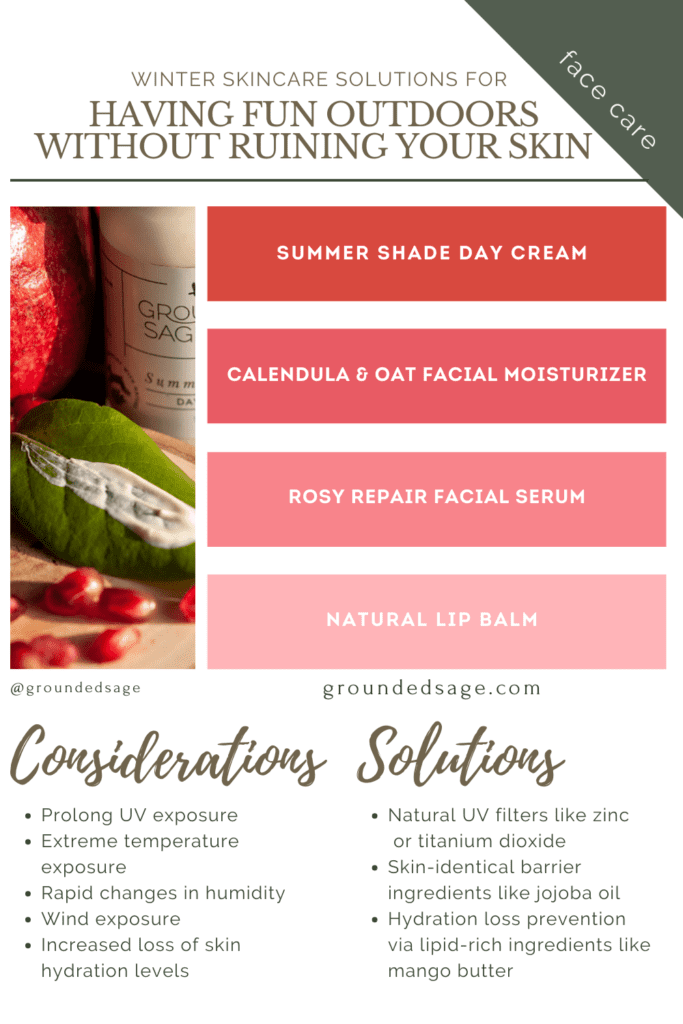 outdoor skin protection (without triggering congestion)
Symptoms:
Prolong UV exposure

Extreme temperature exposure

Rapid changes in humidity

Wind exposure

Increased loss of skin hydration levels
Solutions:
Natural UV filters like zinc or titanium dioxide

Skin-identical barrier ingredients like jojoba oil

Hydration loss prevention via lipid-rich ingredients like mango butter
Products Mentioned in the OUTDOOR FUN (FACE CARE) Guide: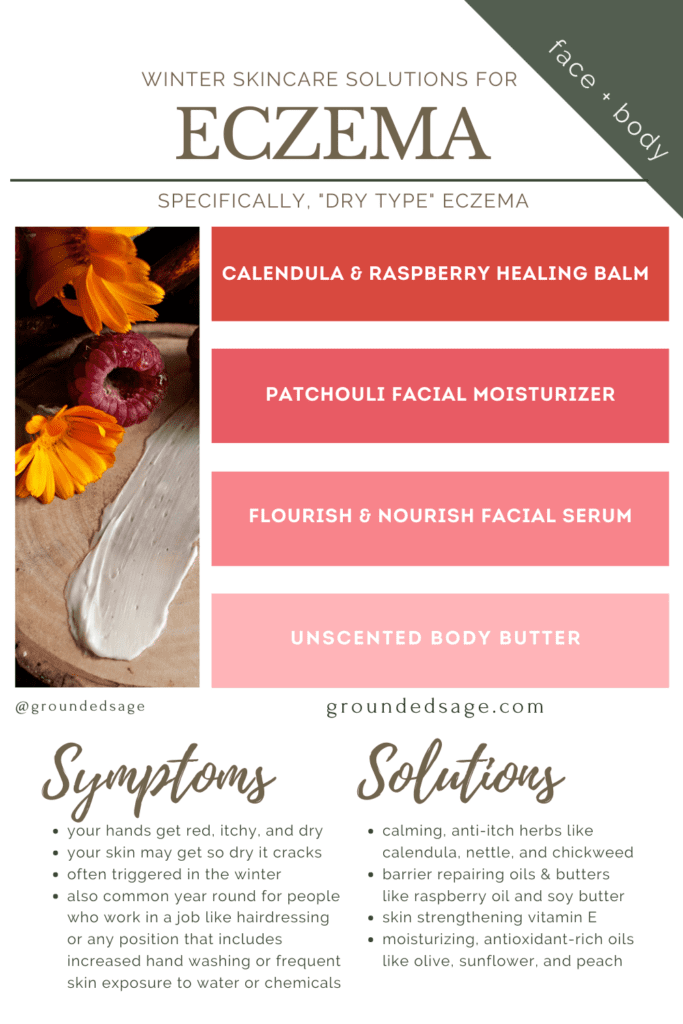 eczema (usually on hands)
Symptoms:
your hands get red, itchy, and dry

your skin may get so dry it cracks

often triggered in the winter

also common year-round for people who work in a job like hairdressing or any position that includes increased hand washing or frequent skin exposure to water or chemicals
Solutions:
calming, anti-itch herbs like calendula, nettle, and chickweed

barrier repairing oils & butters like raspberry oil and soy butter

skin-strengthening vitamin E

moisturizing, antioxidant-rich oils like olive, sunflower, and peach
Products Mentioned in the ECZEMA (DRY TYPE) Guide: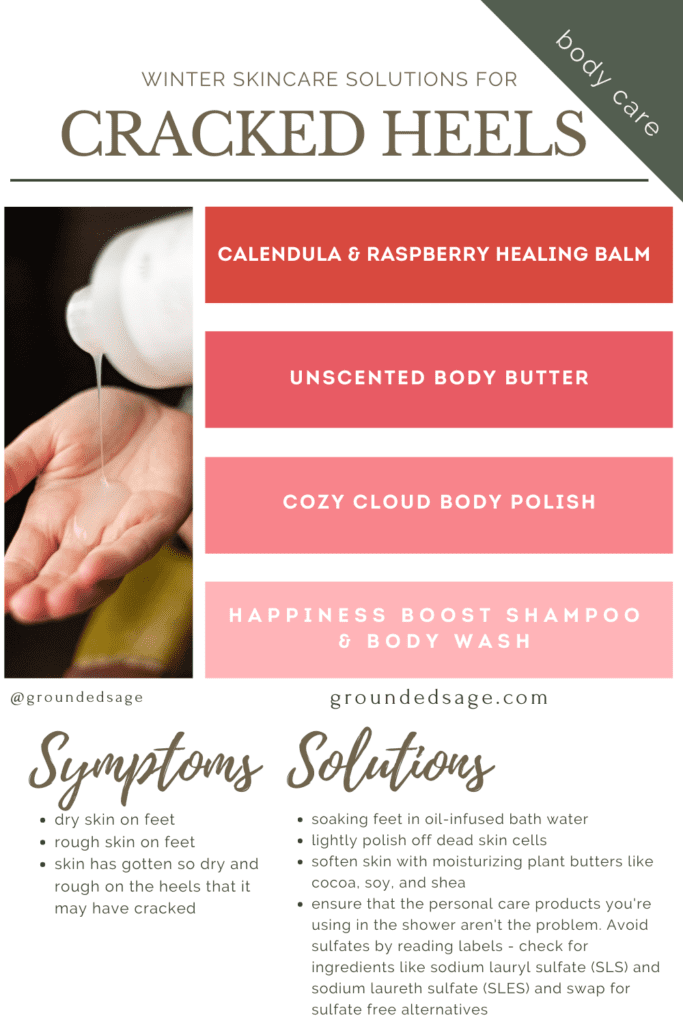 dry, cracked heels
Symptoms:
dry skin on feet

rough skin on feet

skin has gotten so dry and rough on the heels that it may have cracked
Solutions:
soaking feet in oil-infused bath water

lightly polish off dead skin cells

soften skin with moisturizing plant butters like cocoa, soy, and shea

ensure that the personal care products you're using in the shower aren't the problem. Avoid sulfates by reading labels – check for ingredients like sodium lauryl sulfate (SLS) and sodium laureth sulfate (SLES) and swap for sulfate free alternatives
Products Mentioned in the CRACKED HEELS Guide: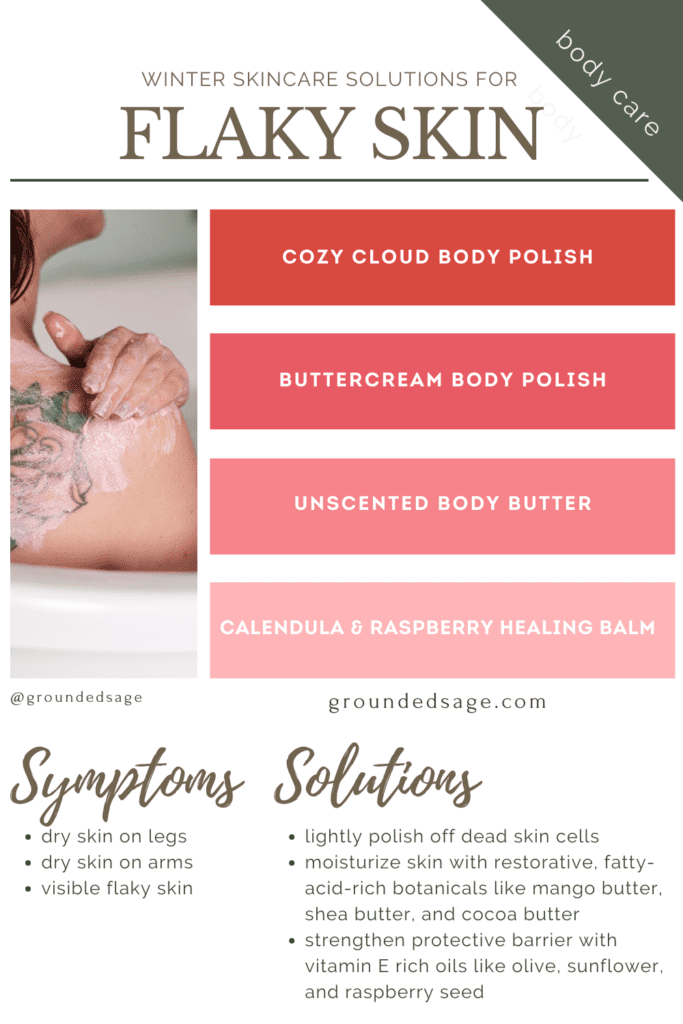 flaky skin (on body)
Symptoms:
dry skin on legs

dry skin on arms

visible flaky skin
Solutions:
lightly polish off dead skin cells

moisturize skin with restorative, fatty-acid-rich botanicals like mango butter, shea butter, and cocoa butter

strengthen the protective barrier with vitamin E rich oils like olive, sunflower, and raspberry seed
Products Mentioned in the FLAKY SKIN (BODY CARE) Guide: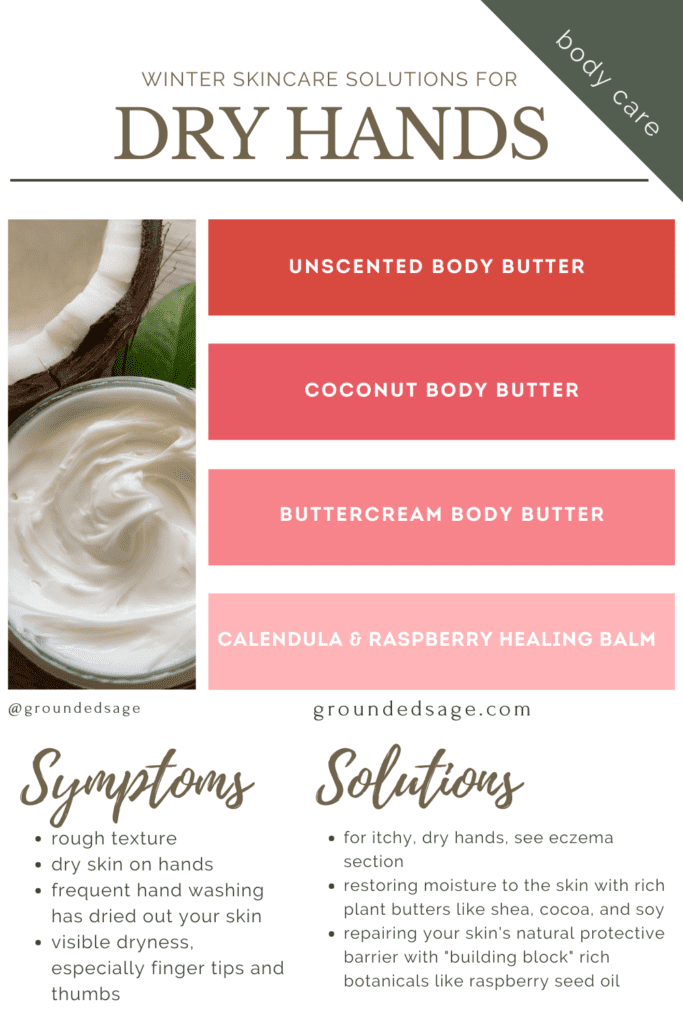 dry hands
Symptoms:
rough texture

dry skin on hands

frequent hand washing has dried out your skin

visible dryness, especially fingertips and thumbs
Solutions:
for itchy, dry hands, see eczema section

restoring moisture to the skin with rich plant butters like shea, cocoa, and soy

repairing your skin's natural protective barrier with "building block" rich botanicals like raspberry seed oil
Products Mentioned in the DRY HANDS (BODY CARE) Guide: