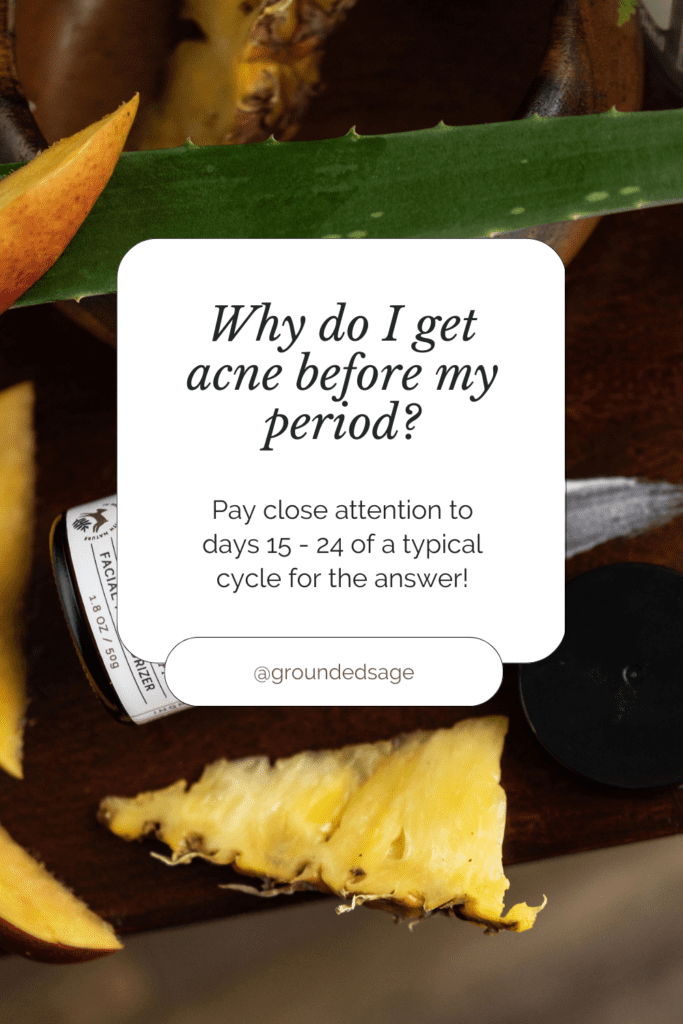 To answer the question of why do I get acne before my period, we need to look at what happens during your hormonal cycle that makes the perfect combination of triggers for breakouts.
Pay close attention to days 15 – 24 of a typical cycle – this window of time determines a lot about whether you'll get acne before your period starts.
So, what happens during the typical menstrual cycle with our skin?
Let's have a look day by day so you can tweak your skincare routine as needed.
YOUR SKIN + YOUR CYCLE
Day 1
💧 Now is a good time for some deep hydration + soothing shea butter.
The first day of your period
All hormones are at an all-time low
Skin will be dry and may appear dull
Day 2 – 6
💖 This is an excellent time to consider supporting your skin with a pink clay mask.
Estrogen beings to increase slowly, but no significant changes to the skin will be noticeable.
This cycle stage requires skincare similar to Day 1 because our hormones aren't giving our skin a helping hand. Keep up with deep hydration and soothing shea butter.
Day 7 – 9
As estrogen levels climb, you might notice a slight improvement in your skin's appearance.
Day 10 – 13
☁️ Feel free to lighten up your skincare routine around this time by using a lighter-weight moisturizer if that's what you typically use.
If soothing shea facial moisturizer is what you typically use, keep on keeping on with your usual routine and enjoy the glow!
The window when our skin is excellent at retaining moisturizer and looks its best!
Day 14
Since we're basing this timeline on an average menstrual cycle, it's ovulation day! Your skin will be riding the radiant wave from day 10 – 13.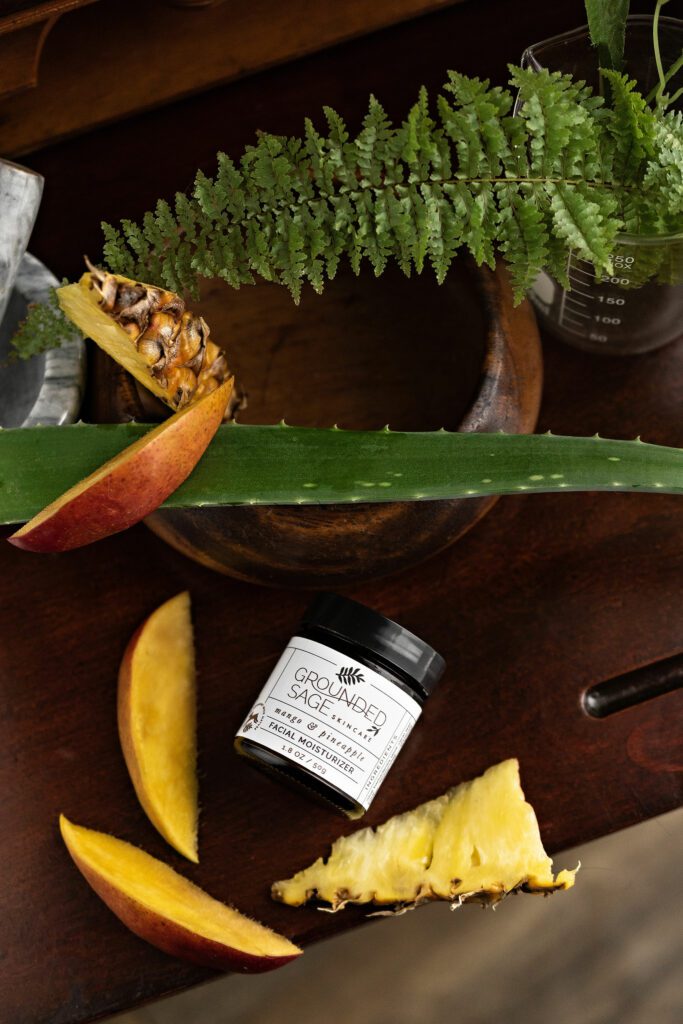 The next phase of your cycle answers the question: Why do I get acne before my period?
Day 15 – 19
🔥 Use a product that actively reduces inflammation, like this mist and this moisturizer.
Estrogen and testosterone start to decrease
Progesterone begins to increase
This is a KEY TIME to tweak your skincare routine.
Progesterone starts to increase oil production and can bring on a surge of inflammation.
This means there's less room in our pores and a higher potential for clogged pores.
The conditions our skin is facing create the perfect storm for acne breakouts.
Day 20 -24
🔥 This is the time to ensure you're using a product that delivers a potent dose of acne-fighting antioxidants to your skin, combats congestion (since your pores are still primed for becoming clogged quickly), and blocks harmful bacteria from multiplying. I'd recommend this moisturizer.
Progesterone is at its peak.
This is when breakouts related to our menstrual cycle are most likely to show up.
Day 25 – 28
💧 Now is a great time to ensure you're not skipping out on hydration and double down on aloe-rich skincare products.
Progesterone and estrogen levels start to plummet in preparation for our cycle starting all over again.
Your skin will begin to have a hard time hanging on to hydration.
Supporting healing with hydration and simple, straightforward skincare.
Keep the above cycle in mind (or save pin this post for later) to encourage you to ride out the hormonal wave!
Knowing it's only a few days before your skin will start to adjust is sometimes all we need to confidential continue on without adding extra stress to the situation.
Until next time, hydrate, hydrate, hydrate  😉,
P.s. ⚠️ One last thing to mention before I sign off.⚠️
Each month, how our skin reacts can be an indicator (though nowhere near a complete picture) of our hormonal health.
If you struggle with hormonal fluctuations that feel crushing and come with a considerable amount of physical or emotional pain, I encourage you to seek help! Harness your inner radiant rebel, dig your heels in, and advocate for your health until you get answers!
If seeking help has been fraught with false starts, brush-offs, or dead ends, consider deploying the "in case of emergency" buddy system by asking a trusted friend or loved one to advocate on your behalf when your well is depleted.
I know this road all too well. My grit and determination ebbed and flowed as much as my hormones did! But I can tell you that the other side of confusion and frustration is answers, help, and better health!
You got this!