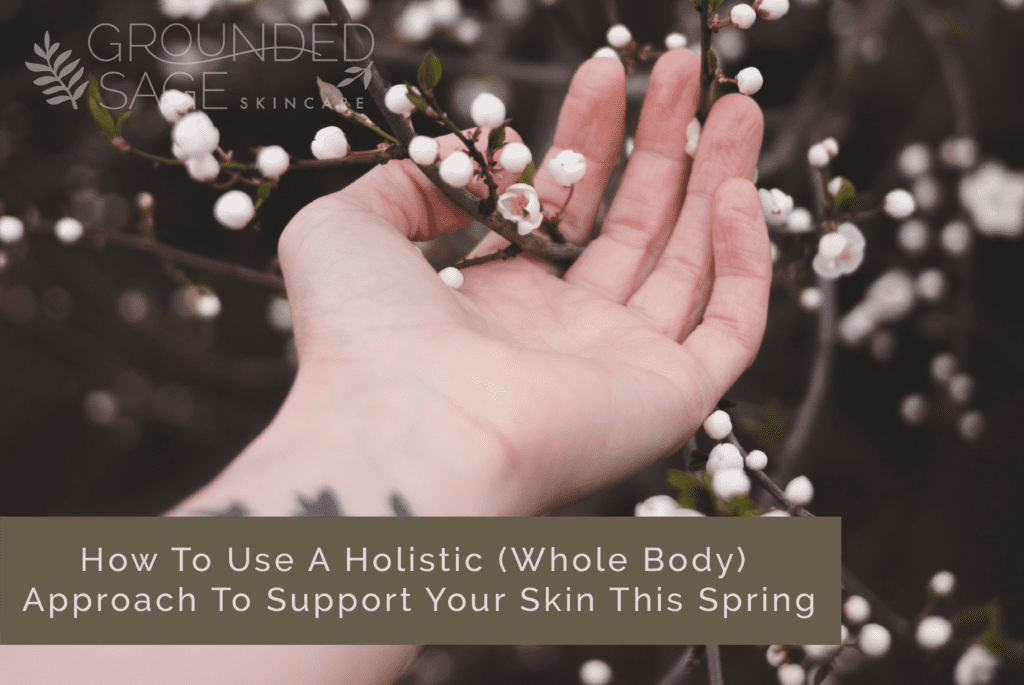 One of the things I love most about taking a holistic approach to skincare is that I'm able to infuse seasonality (inspired by nature) into how I support my whole self – mind, body, and soul.
A "whole self" (aka holistic) approach to skincare is important because our skin isn't an organ that does its own thing outside of what's going on with our body, mind, or emotions. They are all connected, and all impact each other.
There are so many examples of our how our body, mind, and emotions are all connected and all can have an effect on our skin, but let's look at one specific example: our hormones.
Our hormones are affected by many factors including…
… our body – which is affected internally by factors like our genetics and what we eat, as well as external factors like what we're exposed to in the environment

… our mind – which is affected by factors like our level of stress, how we're feeling emotionally, ruminating thoughts, mental health, mindset, etc.
So… if we want to support our skin, we need to support our bodies and our minds in a way that encourages the healthy production of balanced hormones.
While the basics for caring for our whole self doesn't change from season to season, how we apply those basics can. For myself, I don't change a whole lot from season to season (I'm a creature of habit!) but I do like to incorporate small seasonal actions as it keeps things fresh (which keeps me motivated to integrate self-care into my routine) and keeps me feeling connected to nature (which reduces my stress levels).
If you'd like to take a few season-inspired actions, below you'll find my holistic skincare suggestions for spring.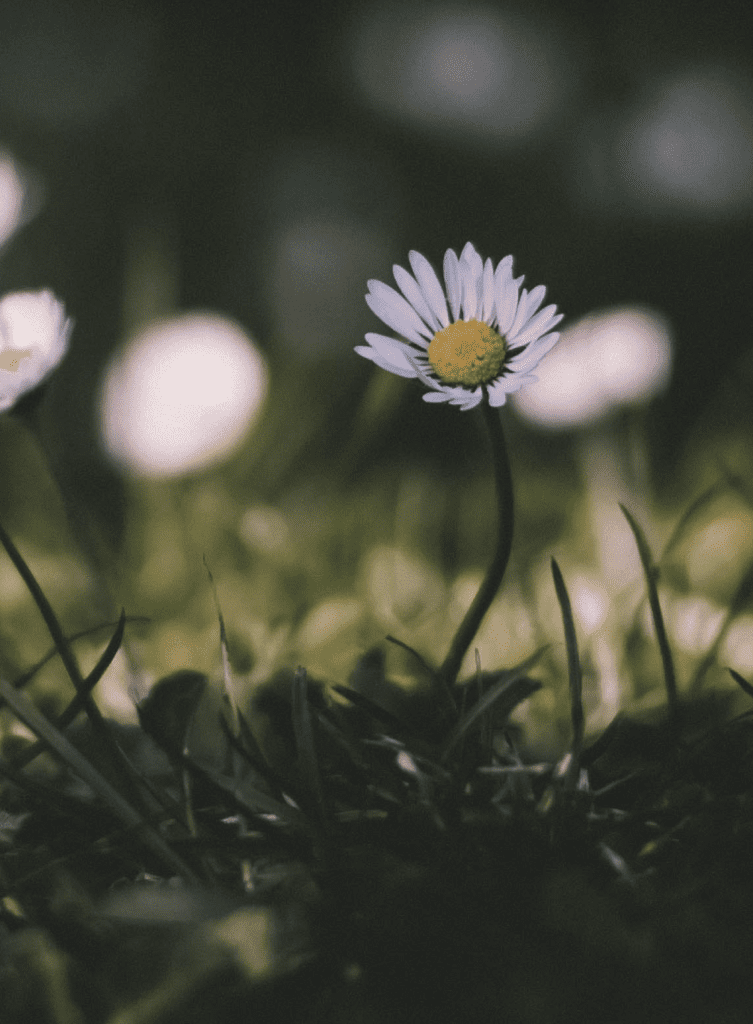 Holistic Skincare Suggestions for Spring
Emotional Skin Support:

Where's your relationship with your skin right now? Perhaps you've been feeling anxiety around the tone, texture, or completely normal signs of ageing that your skin has? Creating a mindset shift that takes us from stressing about our skin to working with our skin as part of a wellness journey can feel like a breath of fresh air. To get you started, journal or type out on your phone one promise you'd like to make to your skin this month. Ideas could include:
"I promise to treat you as part of my whole body and not treat you as a single facet to judge, ridicule or stress over."
"I promise to be grateful for all the things you do for me daily like protect me, regulate my temperature, perform sensory functions (like touch), synthesize vitamin D, and temporarily store fats, sugars, vitamins and salts."

Internal Skin Support:

Consider embracing the arrival of spring by supporting your body with skin-loving, spring-inspired foods. Spring is a season for clearing, cleaning, detoxifying, and making room for new growth. Here are some seasonal suggestions for foods that nourish our skin from the inside out that are also in line with springs themes of renewal:
Lots of cleansing, hydrating fluids like lemon water and dandelion root tea.
Foods that support your body's inherent detoxification processes like arugula, spinach, watercress, asparagus, artichokes, and radishes.

Topical Skin Support:

Supporting our skin at the very beginning of spring means focusing on our skin's natural protective barrier (which has often taken a hit thanks to the harsh elements it faces during the winter).
Fortifying and supporting our skin's natural barrier takes the form of supplying the skin with compatible lipids – thankfully Mother Nature provides these to us in the form of plant-based oils like jojoba, sunflower, safflower, hemp, olive, grapeseed, rosehip, etc. and plant-based butters like shea and cocoa.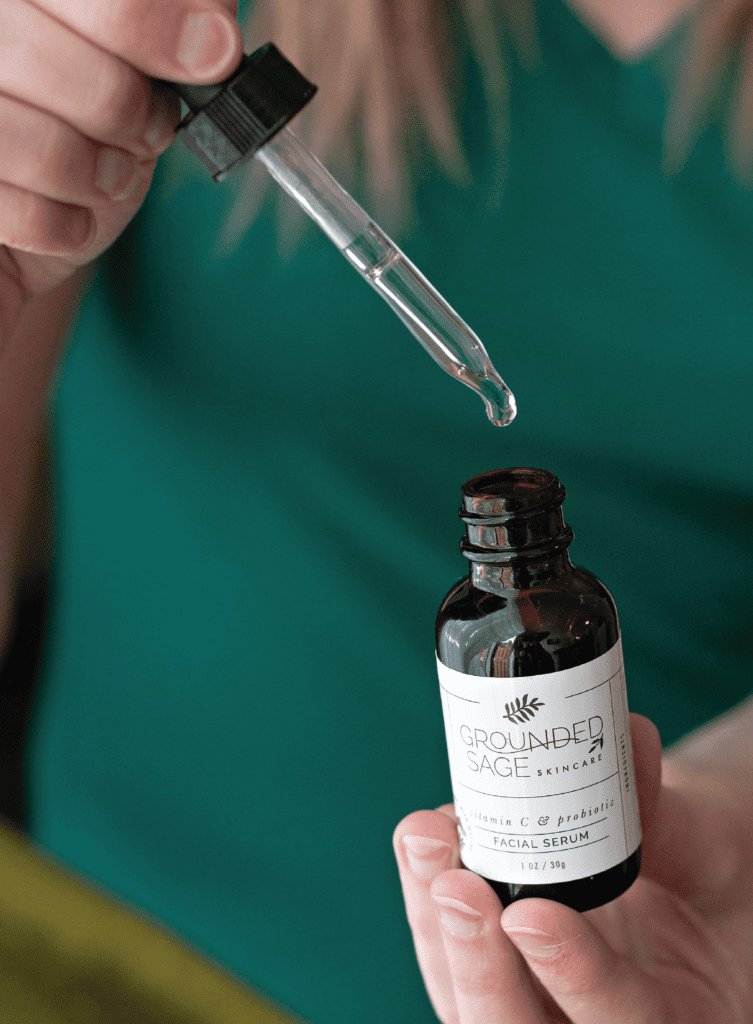 Look for plant-based oils and butters in moisturizers and plant-oil blends (sometimes called serums) to get the most barrier repairing properties.
To learn more about supporting your skin's natural barrier (and to figure out if your skin needs the extra support or not right now) check out this blog post or this more in-depth podcast episode.
After we've supported our natural barrier, often in mid to late spring, we start to focus on renewal (shedding the heaviness of winter) and hydration (April showers – for your skin). Read about both in this blog post.

Lastly, embrace all that spring has to offer. There's a sense of renewal and new beginnings in the air that can rejuvenate our minds, bodies and spirits.

Until next time,


Pin this article for later: