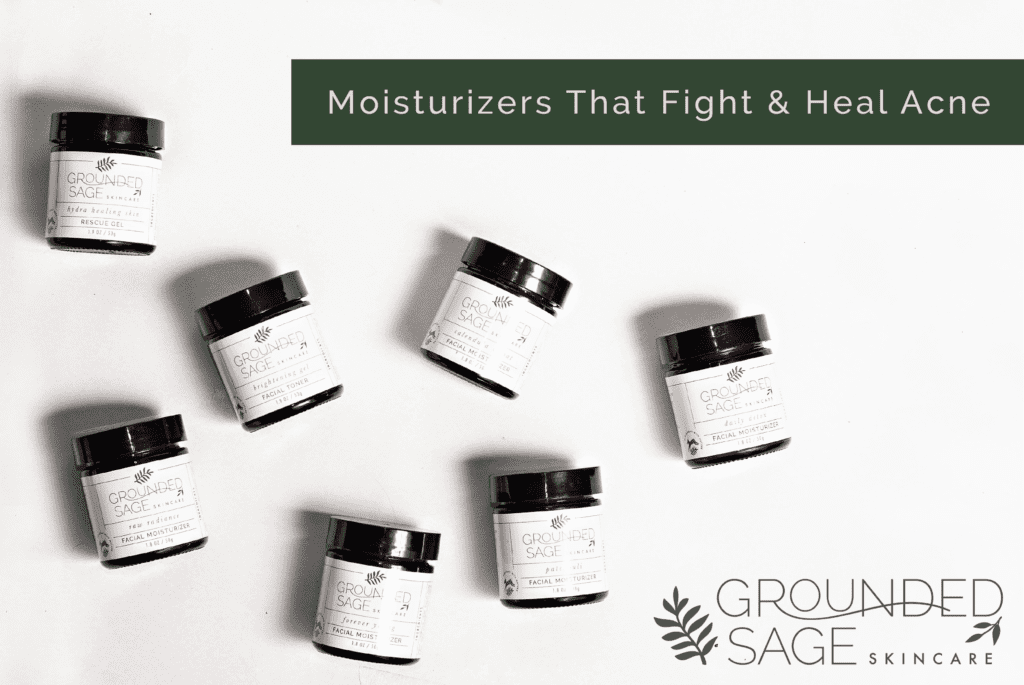 Moisturizing is an important part of any acne fighting routine and the right moisturizer can mean the difference between prolonging/causing acne and healing/clearing acne.
That's where my facial moisturizers come in:
Many of you already know about the wonders of my Patchouli Facial Moisturizer, but few know about the acne fighting wonders of my Forever Young and Daily Detox! Check out the benefits of both below.

All 3 Moisturizers Contain Ingredients That …
are protective, nourishing, hydrating, and skin softening
absorb deep into skin's layers to help skin retain moisture 
repair damaged skin
provide protection against free radicals
provide anti-inflammatory support (which also soothes irritation)
reduce skin's exposure to the elements and pollution
help oily and combination skin find balance
have astringent properties (bacteria-fighting! Super important when fighting acne)
are healing, soothing, calming
naturally blocks some of the suns rays (titanium dioxide is one of two natural sun-blocking ingredients and it's in each one of my facial moisturizers)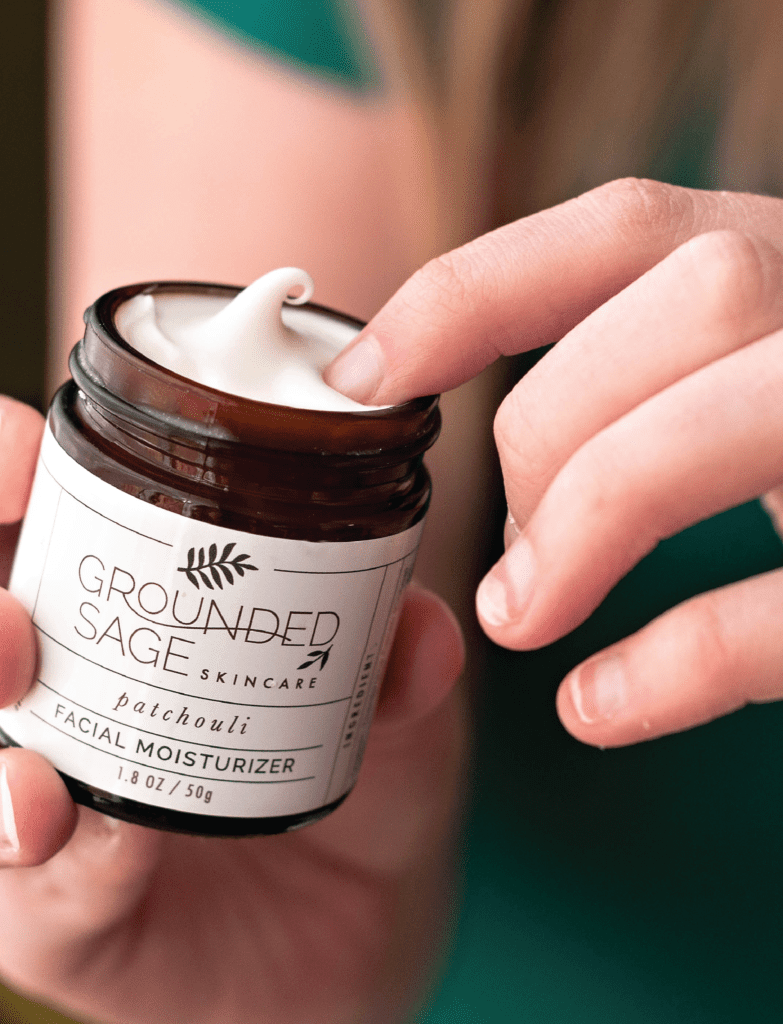 Patchouli Oil is What Makes My Patchouli Facial Moisturizer So Awesome Because of Patchouli Oil …
is so excellent at calming acne prone skin, it's as if Mother Nature made it for this specific purpose!
heals inflammation, acne, dermatitis, sores, eczema, and other skin conditions.
is particularly beneficial for mature, oily, and combination skin
is traditionally used in natural skin care for the following skin/hair and skin/hair types: dry, irritated, prone to acne, mature, wrinkled, damaged, dilated pores, dandruff, allergic, eczema, varicose veins.
it helps to regenerate healthy new skin cells – this is particularly important for healing skin and scar tissue
is excellent for stress-related emotional imbalance including anxiety, nervousness and anger (beneficial for those who suffer from stress-related breakouts)
it is useful for treatment procrastination due to confusion or depressive, negative thought (something that can plague acne suffers)
the aroma is uplifting, balancing/stabilizing, regenerative, and slightly hypnotic.

it 

is sweet, spicy, woody, slightly balsamic, earthy, herbaceous,  and smoky. The earthy smell grounds and centers the psyche, which can be used to remedy unwelcome episodes of being "spaced out". 
is also great to use in meditations for calming restless and non-stop thoughts – it's especially good at grounding and centring.
… plus a few fun facts:

… is a symbol of the hippie period and was used a lot during the 1960s and early 1970s .. groovy 🙂
… is a power for aphrodisiac (perhaps this is why the "summer/season of love" went hand-in-hand with patchouli oil hehe)

Forever Young Antioxidant Moisturizer Contains Ingredients That …
glide on silky smooth making it excellent for applying to delicate areas like around the eyes
were specifically chosen for their mature skin supporting properties (such as their ability to decrease the rate at which skin matures and can even make the signs of ageing less noticeable)
have increased anti-inflammatory properties (more than the other two moisturizers)
have increased infection-fighting properties (more than the other two moisturizers) – this is super important for those who are fighting acne!
provide super light, semi-transparent, coverage (that's the "tint" part of the Quick Tint) and a natural glow
include vitamins A, B1, B2, C, E, and K, as well as beta-carotene, bioflavonoids, calcium, citrates, citric acid, iron malates, malic acid, niacin, and phosphorus.
packed with fruit and botanical extracts that are bursting with antioxidants and free radical fighting power
have blood-cleansing properties (thanks to carrot extract!)
absorb small amounts of excess oil (helping to keep the skin balanced)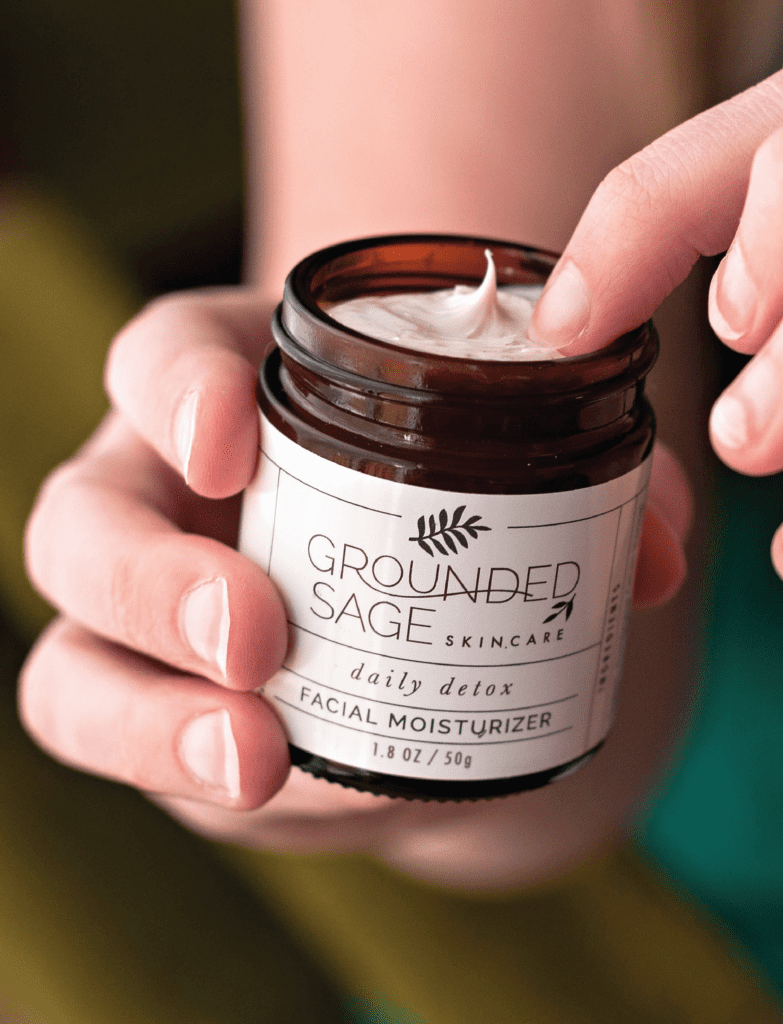 Daily Detox Moisturizer Contains 4 Specially Picked Clays! Here's Why They Are Included…
The first clay is strengthening for all skin types and is the strongest of all the clays for detoxification, which is extremely beneficial for acne prone skin! Why? Detoxing your skin throughout the day pulls up blackheads and impurities in the skin! This clay also helps rebalance oil flow and aid in the repair of scars.
The second clay is the ultimate in hydration and skin firming! This clay is perfect for balancing the most stressed and sensitive skin while it's hydrating properties help to refine delicate lines, moisturizer, and improve the overall texture of the skin.
To add "slip", the third clay is added, making it a good primer. Before you put your make up on, a primer is used on the skin. It gives your skin a super smooth and soft texture, so your makeup goes on flawlessly without getting "caught" on any imperfections, dry spots, or fine lines.
The fourth clay rounds out this perfect formula with lots of benefits! This clay aids in rejuvenation, detoxification, and toning of the skin. It helps to reduce dryness & flakiness as well as improve skin clarity and elasticity.

Raw Radiance Moisturizer Contains Ingredients That…
Antioxidant-packed to provide your skin with lots of vitamin support and free-radical protection; get a healthy dose of Vitamin B1, B3, Carotene (Vitamin A), E, K, Polyphenols, and more.
Coconut-Oil free for those who prefer a gentle, light-weight moisturizer
Soothing properties relieve inflammation and irritation
Anti-ageing properties preventing skin damage and oxidization of the skin which leads to the signs of ageing
Brightens skin tone and evens the appearance of fine lines
Reduces redness which makes it a great option for those with Rosacea
Stops acne before it starts (by putting out of the flames of inflammation and killing acne bacteria) thanks to Lavender Essential Oil and Goldenseal Extract

So what's my recommendation for those who are fighting acne?
Switch it up! I would suggest using the Patchouli Facial Moisturize as your go-to moisturizer and work the other two into your routine as needed.
For example, during the day wear the Daily Detox and the next day, wear the Forever Young during the day. Wear the Patchouli Moisturizer at night, each night. If you're fighting dehydration (go here to see if you are – even oily skin can be dehydrated) use a Hydration Mist or the Acne BOP Mist before applying your moisturizer.  Additionally, it's a good idea to apply a serum rather than a moisturizer once a week at night – or in place of your moisturizer on days when it's super hot and sticky out. I suggest noting how your skin looks after using a serum verse a moisturizer and plan your routine accordingly. Moreover, a general rule of thumb is to wear a serum (as a minimum) during the summer and wear a serum and a moisturizer (at the same time) during the winter. Worked a mist into your routine year-round.
It's best to give your skin a chance to absorb all the acne healing and fighting ingredients that you can and by working each moisturizer into your routine throughout the week, you'll be supporting your skin's natural ability to heal itself.
With love & radiance,


Pin this article for later: